China LGFV Dollar Bond Sales Persist on State Support Aura
(Bloomberg) -- Strong dollar bond issuance by China's town builders remains unabated, as the deeply-rooted perception of state support for the debt-laden sector continues to draw investors.
Weifang Urban Construction and Development Investment Group Co., a local government financing vehicle from the northeastern province of Shandong, priced a $250 million bond on Monday, its first offshore note sale. An LGFV from Hunan Province and one from Guangxi have announced investor meetings this week. Sentiment toward the sector was lifted after two funding platforms narrowly missed bond defaults in the last two months.
Investors expect more deals to come despite repeated warnings by ratings companies that government support will weaken over time, with S&P Global Ratings and Moody's Investors Service both downgrading some LGFVs a month ago. These funding units are under pressure to refinance exiting bonds, with a peak seen in the first quarter next year, Bloomberg-compiled data show.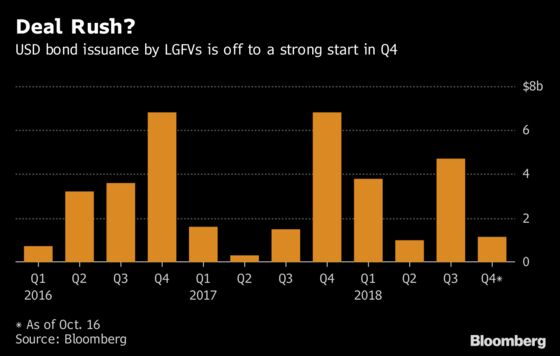 "The market did have concerns towards LGFVs' standalone credit profiles and on the extent of government support," said Jimond Wong, senior portfolio manager at Manulife Asset Management (HK) Ltd. "But the sentiment towards the sector has improved since a few recent marginal cases finally ended up making the payments with the help of the government."
Embattled Qinghai Provincial Investment Group Co. managed to repay a $300 million note due September after a bailout had been planned by local government officials ahead of the maturity, people familiar with the matter said earlier. In August, Xinjiang Production Construction 6th Shi State-owned Assets Management, a cotton trader with features similar to an LGFV, managed to repay a bond two days after missing payment.
Dollar bond issuance of LGFVs, typically bought by Chinese investors, is off to a strong start this quarter with $1.15 billion sales, according Bloomberg-compiled data. Manulife's Wong expects more deals as LGFVs seek new funding options. They have sold 15 percent more bonds in the domestic market this year than the tally in the year-earlier period, fueled by the notion that government support could be forthcoming and note defaults have yet to happen.
Ratings firms, however, continue to sound alarm bells on the sector. China's local government debts kept off their balance sheets could be as high as 40 trillion yuan ($5.8 trillion) and LGFVs have accumulated much of this hidden debt, according to S&P in a note this week. Still, an LGFV default isn't likely within a year, S&P executive Li Chang said at a credit seminar in Beijing. Read more about S&P's analysis here.
Some foreign investors have remained cautious on LGFVs, given their lack of transparency.
"From an outsiders' perspective, without clear explicit guarantee, how can you even know that implicit guarantee is legitimate," Matthew Eagan, a debt-fund manager at Loomis Sayles & Co., said in an interview in Hong Kong. "The opaqueness of some of the local government operations is a bit of a mystery for an external investor's perspective. So I think it's a tough sell to foreigners. But I do think the Asian bid will be there."