China LGFV Bond Rally Faces Test From Looming Wall of Debt
(Bloomberg) -- China's stimulus measures breathed life into bonds of its local government financing vehicles this week but they now face a test of stamina as debt maturities loom.
With a combined $322 billion worth of onshore and offshore LGFV bonds coming due through 2019 as estimated by research firm CreditSights, there are still plenty of risks to keep some investors such as Hong Kong-based hedge fund DeepBlue Global Investment Ltd. wary. Goldman Sachs Group Inc. doesn't see market concerns on defaults fully subsiding despite easing measures.
"Investors are still very cautious and will need a bit more conviction to embrace risks fully," Ziyun Wang, its partner and senior portfolio manager said. "The recent stimulus will improve liquidity, which can be supportive for those who are better graded and with stronger government support at least for the short term. But the lingering issue for LGFVs is the looming maturity wall."
China recently took steps to support the economy, from the softening of monetary policy to a package of fiscal policies announced on July 23. Those measures included tax breaks and special bonds for infrastructure investment. A State Council meeting on Monday urged financial institutions to ensure reasonable borrowing demand from LGFVs, after the People's Bank of China was said to have encouraged banks to invest in corporate debt last week.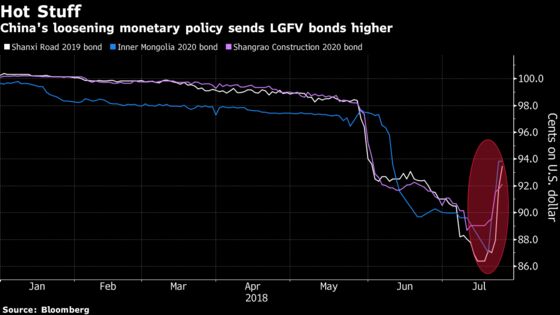 Mounting company defaults from China's deleveraging drive and an escalating trade war between the world's two largest economies have weighed on Asia's bond market this year. Now, with China's new measures, sentiment on high-yield debt has improved with optimism growing on state support for LGFVs, a departure from previous indications that there would be none.
"The government is trying to encourage banks to invest more in corporate bonds -- maybe the intention is to help the private sector, but I think banks will buy more LGFV bonds as they are deemed as less risky and linked to the state still," said Claire Long, research analyst at CreditSights. "But I think the impact will be short term, rather than long term."
Read: China Policy Tweak Helps Corporate Debt at Expense of Sovereign
Jenny Zeng, Hong Kong-based portfolio manager at AllianceBernstein Holding LP, said the rally in LGFV bonds could sustain. "Barring any furiously negative headlines, the market should maintain stable into the second-quarter earnings season," she said.
Gansu Provincial Highway Aviation Tourism Investment Group Co., an LGFV, is seeking to price a three-year dollar bond on Thursday to help fund its business and repay existing debt, according to people familiar with the matter, who asked not to be identified because they're not authorized to speak about it.
There have been "lots of trades of LGFV bonds in the secondary market thanks to policy support," said Chen Su, portfolio manager at Qingdao Rural Commercial Bank. "There is more interest in LGFV bonds than medium to high quality corporate notes as investors count on government backing."
Even so, Wang of DeepBlue isn't totally convinced yet, saying he needs to see how the LGFVs will refinance their existing debt amid the deleveraging campaign that's still intact despite some adjustments.
"For me, risk-off mode is here to stay for a while when it comes to LGFV debt," he said.