China Considers Shifting Huarong Stake to Sovereign Wealth Fund
(Bloomberg) -- China's finance ministry is considering transferring its stake in China Huarong Asset Management Co. to a unit of the nation's sovereign wealth fund that invests in financial companies, according to a person familiar with the matter.
One motivation for the proposed transfer to Central Huijin Investment Ltd. is that the unit has more experience resolving debt risks, the person said, asking not to be identified discussing private information. Deliberations over a transfer have continued as investor concern over China Huarong's financial health sent the company's dollar bonds tumbling to record lows this month, the person said.
Such a transfer has previously been discussed under the auspices of streamlining supervision of China Huarong and other bad-debt managers and wouldn't represent a change in the level of government backing for the company, said another person who wasn't involved in the most recent talks.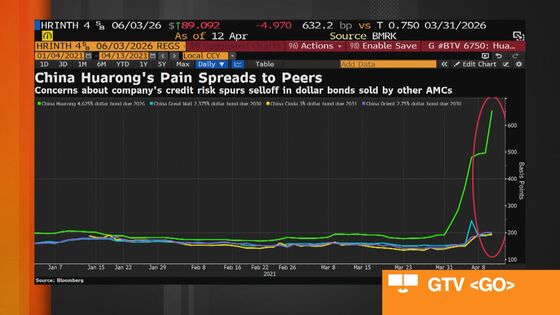 It's unclear whether Chinese leaders have discussed the fate of China Huarong's bondholders or outlined specific measures that Huijin would take if it assumes control of the China Huarong stake. The finance ministry aims to complete a transfer in the next few months, though any final decisions will require approval from China's State Council, one of the people said.
While Huijin is a unit of sovereign fund China Investment Corp., its investment decisions are overseen by the State Council, as are appointments to its board. Huijin holds the government's stakes in some of the nation's biggest banks and brokerages. In 2019, it injected 60 billion yuan ($9.2 billion) into troubled Hengfeng Bank Co., expanding its portfolio to 18 financial institutions, according to CIC's 2019 annual report.
By playing the role of "activist shareholder," Huijin has delivered "outstanding performance" in growing state assets over the years, according to the report. The unit's equity interests combined with accumulated profits stood at more than 7 times the amount of government capital injected into the businesses.
China's finance ministry and CIC didn't immediately respond to requests for comment.
In an emailed response to questions from Bloomberg, Huarong said it has "adequate liquidity" and plans to announce the expected date of its 2020 earnings release after consulting with auditors. It was Huarong's failure to release annual results that helped trigger the selloff in its bonds this month.
Read more on China Huarong:
China Huarong Plans to Retain Key Offshore Unit in Overhaul
The company's dollar debt got a slight boost after Bloomberg reported the potential stake transfer. Some notes rose by about 2 cents on the dollar, though they were still headed for record lows on a closing basis. Prices tumbled earlier on Tuesday as traders circulated a Caixin commentary that discussed various scenarios for the company that included bankruptcy.