China Injects Short-Term Cash After Crackdowns Spook Markets
(Bloomberg) -- China's central bank broke out of its usual pattern of daily liquidity operations, as it boosted a cash injection into the financial system, soothing market nerves frayed by regulatory crackdowns.
The People's Bank of China added 30 billion yuan ($4.6 billion) of liquidity into the financial system with seven-day reverse repurchase agreements, raising it from 10 billion yuan of injections for the first time since June 30. The move also came amid seasonal tightness in liquidity ahead of the month-end.
The cash injection is seen as a signal that regulators are seeking to restore calm in financial markets after reforms in China's after-school eduction sector and unverified rumors that U.S. funds are offloading China and Hong Kong assets induced a sharp selloff. Interbank borrowing costs dropped Thursday, with the overnight repurchase rate falling the most in nearly a month. The yield on China's 10-year government bonds declined for the first time in three days.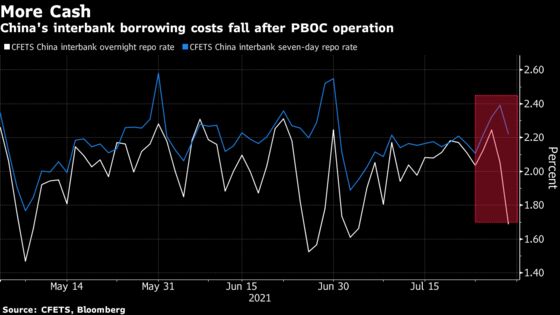 "The PBOC added more liquidity at this time to ease and support market sentiment," said Ming Ming, head of fixed-income research at Citic Securities Co. "There's greater demand for funds as a month-end approaches and so liquidity is slightly tight," he said, adding that bonds should gain in the near term with the liquidity boost.
Thursday's cash operation follows a meeting convened by China's securities regulator with executives of major investment banks on Wednesday night. State-run media have also published a series of articles suggesting the rout is overdone while some analysts have speculated government-linked funds have begun intervening to prop up the market.
Sentiment was also boosted after CNBC reported that China will allow domestic companies to go public in the U.S. as long as they meet listing requirements.
The CSI 300 Index rose, pulling back from near a bear market. There was more demand for seven-day repo this morning as banks sought cash beyond the end of the month, according to a trader. The overnight repurchase rate fell 42 basis points to 1.63% while the 10-year bond yield declined two basis points to 2.9%. The offshore yuan rose 0.2% to its highest in a week.