China Inc. $287 Billion Perpetual Bonds Flash Warning Signs
(Bloomberg) -- Chinese firms combating tight funding conditions are bracing for the next shoe to drop: a record amount of perpetual bonds up for redemption.
Some 48.9 billion yuan ($7 billion) of perpetual notes will have first call dates this quarter, which means they either have to repay the debt or be forced to increase interest rates by as much as 500 basis points. While state-owned firms, which make up a big portion of these issuers, are widely expected to redeem on call dates this quarter, all eyes are on whether the private companies that are struggling to raise funds can pay.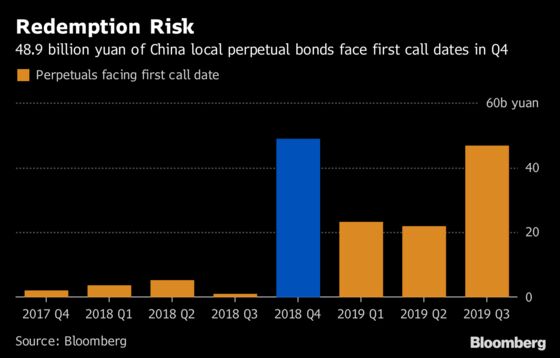 China's efforts to cut speculative borrowing have made funding harder to obtain for the nation's private sector. That has led to a record 70.1 billion yuan of local bond defaults this year. As a result, more firms have opted to hike coupons on their perpetual bonds recently, a move that analysts say could further strain cash flows.
"For issuers that opted not to call the perpetuals, immediate default risks seem to have dissipated for now, but their borrowing costs have surged," said Zhang Rui, chief fixed income investment manager at Changjiang Securities Co. "Furthermore, investors would have more questions over their credit qualities, which will put them under further refinancing risks in the future."
Hainan Airlines Group Co. last week raised the coupon on its 2.5 billion yuan perpetual notes by 300 basis points, becoming the third issuer this year to reset interest rates on such notes. This was to "avoid the adverse effects of future uncertainties" on its operations, the company said in a statement. The new coupon of 8.78% marked the highest rate the carrier has paid for onshore notes.
Zhang said he now only looks at perpetual securities of AAA rated state-owned companies and is cautious on those with less viability in financial health in the medium term. Default rates for local bonds from the private sector have jumped to 3.9 percent this year, from 0.7 percent in 2017, and are now far higher than those of state-backed firms, according to Goldman Sachs Group Inc. Read more about it here.
Local issuance of perpetual notes only started in 2013, when the China Securities Regulatory Commission published the framework to permit them. Initially, they were the privilege for high-quality issuers to reduce leverage on paper, yet many lower-rated companies also took advantage of ample liquidity conditions in 2015 and 2016 to sell such securities.
There are about 36 perpetual note issuers from the private sector, accounting for about 4 percent of the seller group, according to Lv Pin, a credit analyst with CITIC Securities Co. There are about 2 trillion yuan of outstanding notes with no set maturity in China, according to Bloomberg-compiled data.
Investors' caution is showing up in higher yields they demand from perpetual issuers, even for the top rated ones. China Datang Corp., a state-owned power generator, last month sold 4.2 billion yuan of non-call three perpetual notes at a coupon of 5.05 percent. That's a premium of 82 basis points over the average yield for AAA-rated three-year bonds, compared with a 51 basis points spread for a similar deal last year.
"Chinese investors currently are still not too familiar with perpetuals," said CITIC Securities's Lv. "And as investors are in risk-off mode, they will be more cautious about such securities."
Earlier story: China surpassed France as the biggest perpetual bond seller in 2015