African Swine Fever Branded a National Crisis in 'Stunning' Blow to China
(Bloomberg) -- African swine fever, the contagious disease ravaging China's pig herds, represents a national crisis requiring more government funding to quell, the head of an agriculture group said.
The full extent of the damage to the country's $128 billion pork industry is still being fathomed, and any estimate of the economic impact from the virus on the swine industry will be "stunning," Li Xirong, director of the China Animal Agriculture Association, told more than 400 people involved in the sector at a meeting in the eastern city of Wuhan Thursday.
The combined 6th Global Pig Forum and 16th China Swine Industry Development Conference is one of the biggest industry gatherings since the disease was first reported in the world's largest hog-producing nation in August.
Other major international meetings -- including the World Pork Expo, due to take place in in Des Moines, Iowa, next month -- have been cancelled on concern that clothing on delegates from affected countries might introduce the virus, which is deadly to pigs but not known to harm humans.
Some exhibitors at the Chinese conference sold disinfectant at their booths outside the main conference hall at Wuhan's InterContinental Hotel.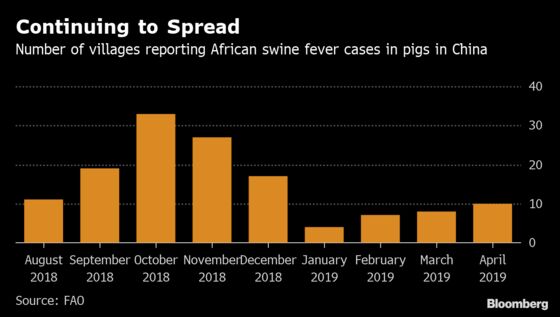 African swine fever has become a serious and disastrous issue, Li said. China's pig industry must focus on how to stop it spreading further, how to restore pork production, and identify alternative sources of meat, said Li, whose association organized the meeting. If all-round bio-security measures are taken, the disease should be preventable and controllable, Li said.
A State Council meeting, slated for Thursday, will discuss ways to maintain pork supply, he said.