China Huarong Wires Funds for $300 Million Bond Due Thursday
(Bloomberg) -- China Huarong Asset Management Co. has transferred funds to repay a $300 million bond maturing Thursday, according to a person familiar with the matter.
The state-owned distressed debt manager wired funds for the 3.3% bond due May 20 to the trustee account last week, said the person, who asked not to be identified as the matter is private.
A Huarong spokesperson declined to comment on the bond payment but said the company and its affiliates have paid its maturing bonds in full. Huarong's liquidity is "fine" and the company has made arrangements to repay future bonds, the spokesperson said, reiterating comments from last week.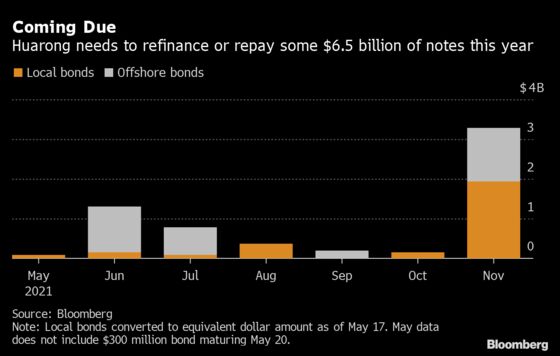 Huarong has secured funding agreements with state-owned banks to ensure it can repay debt through at least the end of August, by which time the company aims to have completed its 2020 financial statements, Bloomberg News reported on Monday. The company's bonds dropped on Tuesday after the New York Times reported that China is planning an overhaul of Huarong that would inflict "significant losses" on both domestic and foreign bondholders.
Huarong said last week that it has seen no change in support from China's government. The company repaid its S$600 million bond due April 27 with funds provided by the Singapore branch of state-owned lender Industrial & Commercial Bank of China Ltd.
Huarong has become a closely watched proxy for China's willingness to backstop government-owned borrowers amid a record wave of corporate defaults. Investors have grown concerned about the company's financial health -- and its level of support from Beijing -- after an ill-fated expansion under former Chairman Lai Xiaomin, who was executed for crimes including bribery in January.