China Huarong Leaves Rating Firms Guessing on State Support
(Bloomberg) -- Moody's Investors Service became the second major ratings firm to downgrade China Huarong Asset Management Co. this week amid a lack of visibility over the central government's support for the embattled bad-debt manager.
Huarong's credit rating was lowered to Baa1 from A3, Moody's said in a statement Thursday, adding the firm remains on watch for further downgrade. The cut reflected the company's weakened funding ability due to market volatility and increased uncertainty over its future, according to the statement. The move follows Fitch Ratings, which reduced its main rating on Huarong by three notches to BBB early this week.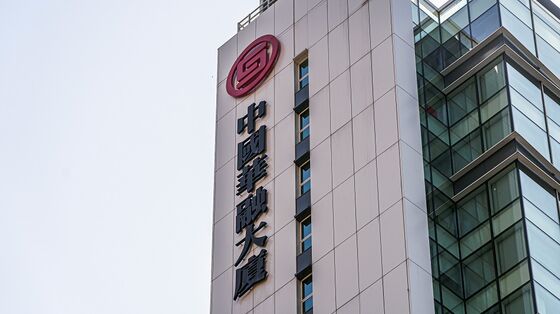 Investors and ratings agencies alike are struggling to get clarity over Beijing's plans for the company, which has $22.9 billion of outstanding offshore debt. Only the China Banking and Insurance Regulatory Commission has publicly commented on Huarong, which is majority-owned by the nation's finance ministry. The commission said the company is operating normally and has ample liquidity. Huarong itself has provided little new information since it delayed releasing its 2020 results at the start of the month, which triggered a rout in its bonds.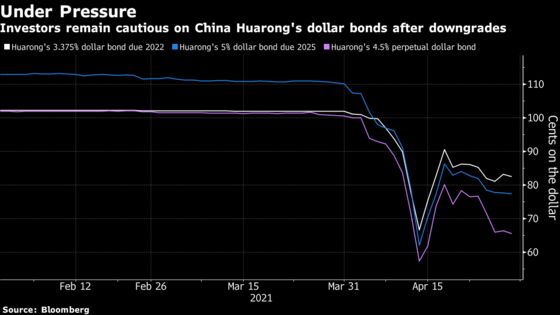 The firm's perpetual dollar bonds fell after the Moody's downgrade, with a 4.5% note down 1.4 cents on the dollar at 64.1 cents and a 4% note dropping 0.9 cent to 63.1 cents, according to Bloomberg-compiled prices.
Both ratings firms cited a lack of clarity over the scope and extent of Beijing's future support for the bad-debt manager. Moody's analysts said their assumed levels of government support for Huarong also remain under review due to a lack of information. Fitch also cited ambiguity over state support for the firm, noting its expectations "are based on our own assumptions and all the information we have received" was in its downgrade statement.
The world's top three rating companies placed Huarong under review for a potential downgrade earlier this month as concerns grew about the state-owned firm's financial health and fate after it missed a March deadline for releasing 2020 results. Since then, investors have been left in the dark about details of a potential restructuring and whether investors will ultimately bear some of the costs. The drip-feed of news has instead offered a range of potential outcomes about Huarong's future and authorities' intentions.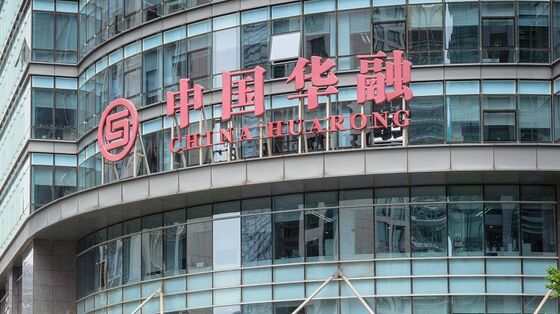 Huarong has $3.7 billion in offshore bonds maturing through the end of this year, Bloomberg-compiled data show. The drama surrounding the company has effectively shut it out from overseas public debt markets and prompted scrutiny over the issuer's maturity schedule as investors search for any possible signs of tightening liquidity at the firm.