Gaming Stocks Pare Losses as Traders Weigh China's Online Curbs
(Bloomberg) -- Gaming stocks in China and Japan clawed back some of their losses as investors weighed the impact of Beijing's move to cut back the amount of time children can play online.
Shares of Tencent rebounded to close up 3.3%, reversing an earlier drop of as much as 4%, helping to spur a recovery in the Hang Seng Tech Index. Bilibili Inc. and NetEase Inc. ended in the red but well off their intraday lows in Hong Kong while gaming shares in Tokyo also trimmed declines. 
Shares of food delivery giant Meituan also rebounded from a 2.1% decline to advance 9% as investors focused on the company's second-quarter revenue exceeding expectations rather than regulatory woes.
"Despite new regulations on online gaming impacting gamemakers, results from other big tech companies such as Meituan showed that the regulatory crackdown has yet to affect earnings," said Marvin Chen, an analyst at Bloomberg Intelligence.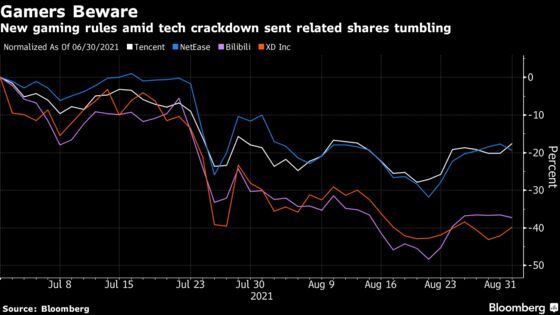 The sharpest share price impact was seen soon after the market opened as traders reacted to the escalation of restrictions on gaming that come on top of the crackdown on everything from ride-hailing platforms to e-commerce to data security. 
Bilibili declined as much as 7.2% before closing 1.1% lower, while NetEase went from a drop of 4.6% to end down 2.1%.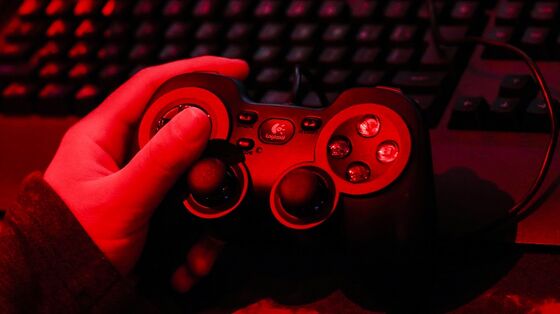 The new rules will only allow gaming platforms to offer services to minors from 8 p.m. to 9 p.m. on Fridays, weekends and public holidays, according to state news agency Xinhua, which cited a release by the National Press and Publication Administration. China had previously restricted gaming hours for teens to 1.5 hours per day in 2019.
In Tokyo, videogame maker Nexon Co. ended the day 3.2% lower and Koei Tecmo Holdings fell by a similar magnitude. Nexon received about of its 28% of its revenue from China in the last fiscal year.
"Tech stocks have been consolidating for a few days now and some funds may be getting impatient and doing bottom fishing already," said Gary Ching, an analyst at Guosen Securities (HK) Financial Holdings Co.