China's Inflation Risks Build as Producers Pass on Costs
China's inflation risks are building as producers pass on higher costs to consumers, reigniting a debate over whether the central bank has scope to ease monetary policy to support a weakening economy and potentially adding to the pressure on global consumer prices.
The producer price index climbed 13.5% from a year earlier, the fastest pace in 26 years and above economists' median forecast for a 12.3% gain, data from the National Bureau of Statistics showed Wednesday. The consumer price index rose 1.5%, the highest since September 2020 and exceeding the projected 1.4% gain.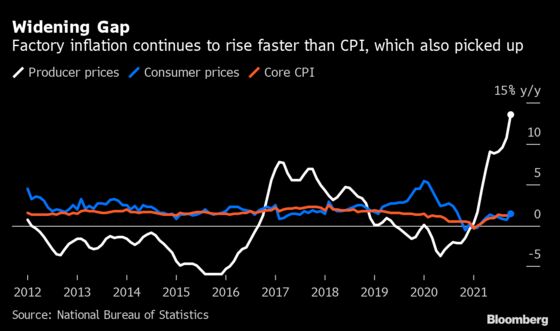 Producer prices in China have been rising rapidly in the past few months, first due to the global commodity price rally and then output curbs caused by a power crunch. Consumer inflation is also starting to pick up as weather-related supply problems push up food prices and manufacturers pass on higher costs to retailers. 
The data "implies broad-based inflation pressure on both the production side and the consumer side," said Bruce Pang, head of macro and strategy research at China Renaissance Securities Hong Kong Ltd. "Inflationary pressure and the more hawkish stance of monetary policy in other major economies will likely limit China's room to maneuver for monetary easing."
The price pickup comes against the backdrop of a weakening economy as electricity shortages, a slump in the property sector and virus outbreaks weigh on activity. Rising inflation will likely reignite the debate over whether the central bank can provide more policy stimulus to help support growth. 
However, the recent collapse in coal from a mid-October peak may take some of the edge off strong producer prices. Inflation pressures from other raw materials are also likely to subside, with commodities futures potentially signaling a protracted slump in demand.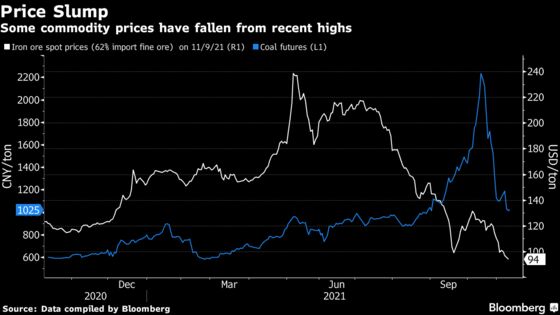 The stronger than expected inflation data is "bad news for the A-share market," according to Ken Chen, an analyst at KGI Securities Co., referring to the stocks of companies listed on mainland exchanges. "The market is expecting some policy support to help the weak economy, but the CPI data may give limited room" for any stimulus, he said. 
China's CSI 300 Index dropped as much as 1.9% during the day before recovering some ground to close 0.5% lower, after state media said authorities are likely to loosen controls for property developers to issue local-currency notes in hopes of preventing further financing deterioration.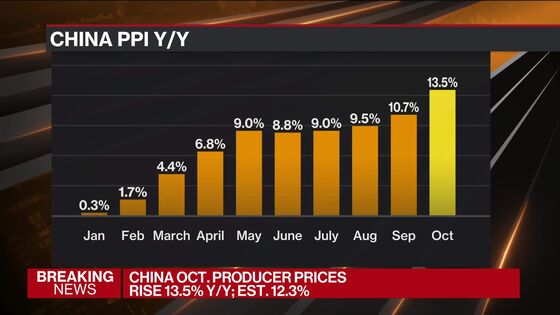 The People's Bank of China has downplayed expectations of another reduction in the reserve requirement ratio for banks after a surprise cut in July, and has kept policy interest rates steady since early last year. Officials are turning to what they call policy "fine-tuning" to help address the economy's slowdown.
Liu Peiqian, China economist at Natwest Markets Plc., expects Chinese policy makers to keep prioritizing stabilizing supplies and prices of commodities and raw materials to tame PPI inflation. She said the PBOC was unlikely to tighten monetary policy as CPI remains well below target.
Although China's impact on global inflation has diminished over time, the pickup in PPI is another risk factor for many countries given China's status as the world's biggest exporter. U.S. inflation data due Wednesday is expected to show consumer prices rose at the fastest pace in more than three decades in October from a year ago.
What Bloomberg Economics Says...

The acceleration in China's inflation in October is probably a bit of a side show for the central bank -- we don't expect the People's Bank of China to take its eye off the need to cushion a slowdown in the economy. We still expect it cut banks' required reserve ratio by another 50 basis points in the next month or so.

David Qu, China economist

For the full report, click here
The jump in PPI growth was due to imported inflation and tight domestic supply of major energy and raw materials, Dong Lijuan, a senior statistician at the NBS, said in a statement accompanying the data release. The pickup in CPI was due to factors such as weather conditions, tight supply of some goods and rising costs, she said.
Pork prices, a big driver of CPI, continued to decline in October, and that helped to mask a rise in other food costs. Overall CPI would have risen almost 2.5% if not for the effects of falling pork prices, according to the NBS.  
Vegetable prices have jumped since mid-October following supply disruptions, prompting the government to crack down on hoarders. Their price rose 15.9% from a year ago, according to Wednesday's data, contributing 0.33 percentage point to the increase in CPI. Prices of freshwater fish, eggs and edible vegetable oil also rose sharply in October from a year ago.
Overall, food prices continued to drop due to the effect of pork but at a slower pace than in September. However, core inflation, which excludes food and energy, accelerated slightly to 1.3%, suggesting demand remained soft.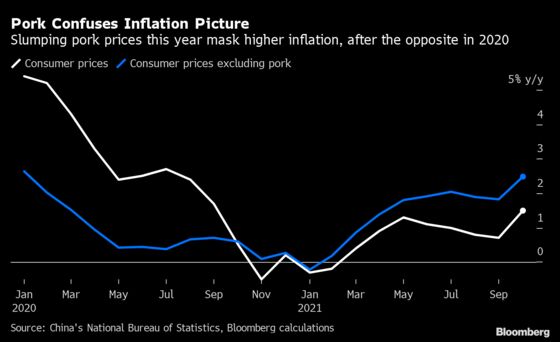 The gap between upstream and downstream prices "continues to highlight weak consumer demand in the economy and the immense pressure on profit margins downstream firms are facing," said Michelle Lam, greater China economist at Societe Generale SA in Hong Kong.
There are signs that upstream producers have started to pass on rising costs to downstream businesses. Several food companies have already announced price hikes of up to 15%, including Haixin Foods, Anjoy Foods and Jiajia Food, due to rising costs for raw materials. 
While the impact of vegetable prices might be short-lived, rising demand before Chinese New Year might drive CPI higher in the next couple of months, according to Xing Zhaopeng, senior China strategist at Australia & New Zealand Banking Group Ltd.