China Factory Data Is Pointing to Xi's Industrial Upgrade Plans
(Bloomberg) -- China's trade war with the U.S. appears to be taking a toll on demand for Chinese-manufactured goods. Even so, in an unusual development, its factories are stepping up the pace of investment.
Growth of manufacturing production decelerated to 6.7 percent in the nine months through September over the same period a year earlier, the slowest pace in more than two years, according to data published Friday by the National Bureau of Statistics.
But another report from the statistics bureau showed growth of fixed-asset investment spending by manufacturers jumped to 8.7 percent. It's accelerated in each of the last six months, leading to a divergence between production and investment that hasn't been seen before in five years of data.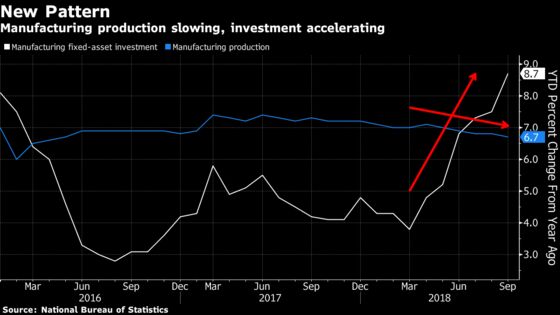 The increased investment, even as the trade war weighs on production, may be a sign that the government is speeding up plans to move Chinese manufacturers up the value chain, according to Michelle Lam, a greater China economist at Societe Generale SA in Hong Kong.
"It appears that Beijing is now putting even more focus on developing the high-tech sector," Lam said. "There are also signs of this from the very-strong semiconductor imports, especially this year, and China now accounts for more than half of the global demand for semiconductors."
NBS data published Friday also showed overall economic growth decelerated to 6.5 percent from a year earlier in the third quarter, the slowest pace since the aftermath of the global financial crisis in 2009. Export growth accelerated in the quarter thanks to front-loading of orders as Chinese producers rushed to ship goods to the U.S. ahead of an anticipated increase in tariffs beginning next year.
The fact that growth is slowing even before the full impact of the worsening trading environment has materialized in the data underscores the extent to which the government has its work cut out in the coming quarters. It's announced multiple steps recently -- spanning the gamut of monetary, fiscal and trade-related measures -- to mitigate the impacts.
"In addition to the announced tax and administrative fee-reduction plan, import tariffs will be reduced on 1,585 industrial products, from machinery to textiles and construction materials," Nathan Chow, a senior economist at DBS Bank in Hong Kong, wrote Friday in a report after the data were published. "The latest move clearly aims at incentivizing capital investment and industrial upgrading."