China Faces Growth Headwinds From Manufacturing, Citigroup Says
China's economic growth faces headwinds this year due to weaker-than-expected investment spending in the country's vast manufacturing sector, driven by Beijing's efforts to rein in pollution and by a profit squeeze at labor-intensive manufacturers, according to Citigroup Inc. economists.
Spending by manufacturers has been the slowest component of Chinese investment to recover from the pandemic, with outlays in the first quarter still below 2019 levels. Manufacturers' profitability, the main source of their investment funds, plunged last year, and many businesses are seeing margins squeezed by higher commodity prices and a resumption of social-security contributions that were suspended during the pandemic, Citi economists said in a report.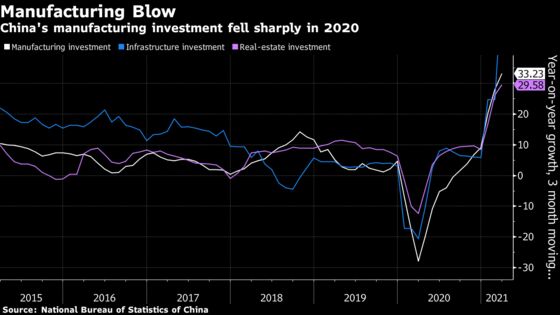 Manufacturing investment "may be at risk of coming out lower than our previous expectation," which would have a "sizable impact" on a previous forecast that China's GDP will grow 8.8% this year, the economists said. While a strong real estate sector has driven a surge in profitability in sectors such as steel and cement, greater government focus on cutting air pollution and slowing growth in carbon emissions will limit their capacity expansion this year, they said.
Chinese exporters interviewed early this year remained reluctant to invest even after shipments surged during the pandemic, partly due to a sharp rise in labor costs and lingering uncertainty from the U.S.-China trade war. China's export growth is widely expected to slow in the second half of the year as consumers in developed economies return to spending on services as more people get vaccinated.
The country's two other main investment drivers also face headwinds. Local government bond issuance, the main driver of infrastructure spending, has been slower than in previous years. Beijing is tightening a campaign against leverage in real-estate companies, which is likely to weigh on their investment spending.
"We expect downward pressure to start building in housing sales in top-tier cities and nationwide property investment," economists at Societe Generale SA wrote in a report this week.
China's top leadership last week highlighted a "window of opportunity" for reforms such as curbing a rise in house prices, tightening regulation of technology companies and stepping up monitoring of local government debt. Those changes are likely to reduce growth in the short term, though officials contend they'll lead to more sustainable growth over a longer period.