China Euphoria Is Spreading, Though With a Caveat: Taking Stock
(Bloomberg) -- If no news is good news, then actual positive news is great news for markets these days.
President Donald Trump said in a Twitter posting Sunday evening he'll extend the deadline to raise tariffs on Chinese goods past March 1 as "substantial progress" has been made in the latest round of trade talks that just wrapped up in Washington. He said should talks further progress, he and counterpart Xi Jinping could meet at his Mar-a-Lago resort to conclude an agreement, without offering details on timing or a fresh deadline.
In response, Asia stocks kicked off the last week of February on a positive note, extending a rally into a sixth day for the longest winning streak in a year, with Chinese stocks leading the way. That's about $585 billion in value gained on Asia's regional benchmark, pushing its market cap to almost $18 trillion.
The CSI 300 Index surged about 6 percent, its biggest gain since August 2015 and entered a bull market, while other key gauges including Japan's and Hong Kong's advanced to a lesser degree.
"The high-frequency engagement between Beijing and Washington at a senior level implies that both sides are looking for some form of settlement," Tai Hui, chief market strategist for Asia Pacific with JPMorgan Asset Management, wrote in a note Monday. The extension "helps to underpin positive investor sentiment in what could be a testing week if February PMI numbers continue to show softening of the global economy."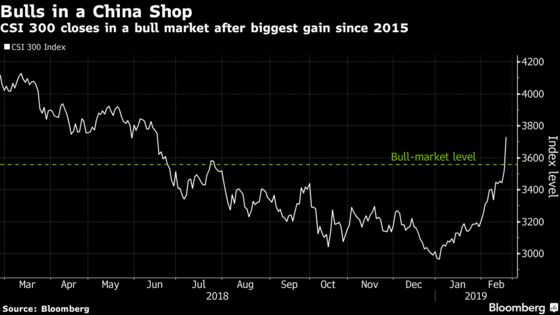 With this latest round of gains, the Asia benchmark extended its rebound from a December low to 13 percent. Investors are optimistic that a pullback from the trade apocalypse and a less hawkish Federal Reserve will help moderate slowing global growth that's emerged in data in recent months, including in the U.S.
The longer this run continues for global stocks, the more signs are also emerging the rally is getting ahead of itself. U.S. equity-index futures, which also climbed on Monday, pared their gains after China's official Xinhua News Agency cautioned trade talks with Washington will become tougher at the final stages.
In Asia, multiple regional markets have pushed past their 200-day moving averages, starting with the Asia-Pacific benchmark and including Australia, Vietnam, Shanghai and Hong Kong. Those markets also happen to have crossed into overbought territory, according to their 14-day relative strength index, the data show.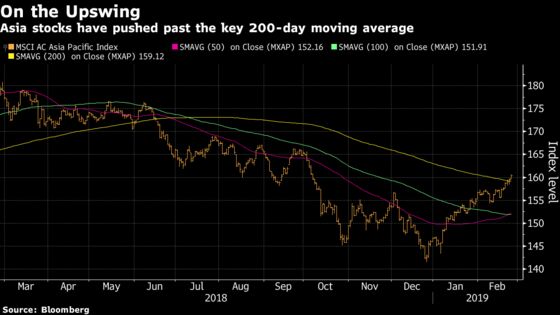 U.S. stocks are also flirting with overbought levels, with the S&P 500 rallying almost 20 percent since December.
"It's rallied so much I've become a little more cautious," Matt Maley, equity strategist at Miller Tabak + Co., said in an interview with Bloomberg Radio Monday. "I don't know if it has a whole lot further to run near term."
A conundrum for investors is trying to figure out how much of the economic slowdown in the U.S. is driven by the trade war, and therefore "how much can the economy bounce back if this thing is resolved," Maley said. "There is some concern."
This week will be a busy one, with plenty of opportunities for risk to hit markets: Trump will meet North Korea's leader in Vietnam, U.S. Trade Representative Robert Lighthizer will give an update on trade talks with China to the House Ways and Mean Committee, and Fed chairman Jerome Powell is set to address the House Financial Services Committee. There's also U.S. data, with fourth-quarter GDP due Thursday (delayed by the government shutdown), as well as a bevy of readings on consumer confidence, manufacturing, housing and auto sales.
MSCI Asia Pacific Index up 0.7%
Japan's Topix index up 0.7%; Nikkei 225 up 0.5%
Hong Kong's Hang Seng Index up 0.5%; Hang Seng China Enterprises up 1.8%; Shanghai Composite up 5.6%; CSI 300 up 6%
Taiwan's Taiex index up 0.7%
South Korea's Kospi index up 0.1%; Kospi 200 up 0.1%
Australia's S&P/ASX 200 up 0.3%; New Zealand's S&P/NZX 50 up 0.4%
India's S&P BSE Sensex Index up 0.7%; NSE Nifty 50 up 0.6%
Singapore's Straits Times Index little changed; Malaysia's KLCI up 0.2%; Jakarta Composite up 0.5%; Thailand's SET up 0.7%; Vietnam's VN Index up 0.6%
S&P 500 e-mini futures up 0.3% after index closed up 0.6% in last session