China Energy's Unkept Promise Jolts Dollar-Bond Investors
(Bloomberg) -- Asian credit investors tiptoeing around default risks in China learnt the hard way on May 25 that a pledge to repay a bond can be reversed within hours.
That's what happened with China Energy Reserve & Chemicals Group Co. on that morning. The company said it planned to repay its overdue $350 million notes and a coupon on its 2019 bonds, sparking a rebound in its notes, only to say later that day it had insufficient funds in its trustee account to meet both the obligations. That sent the notes tumbling once again.
A couple of weeks earlier, the oil and gas producer saddled with about $2 billion of offshore notes outstanding, blamed its junior staffers for the default of its $350 million bond, saying they misread notices from Bank of Communications Trustee Ltd. about the required redemption and coupon payments, Debtwire reported. The company said in a statement that appeared on the Hong Kong exchange on May 27 the default was due to "tightening in credit conditions."
"It's quite bizarre how they started with getting the dates mixed up," said Raymond Chia, head of credit research for Asia ex-Japan at Schroder Investment Management Ltd. "If so, then how did they regularly pay coupons since the dates are similar."
While China Energy's debt woes are broadly an indication of troubles faced by some companies on the mainland as the government's deleveraging drive chokes off funding from shadow banking channels, investors are particularly miffed by the lack of timely information from the state-linked issuer.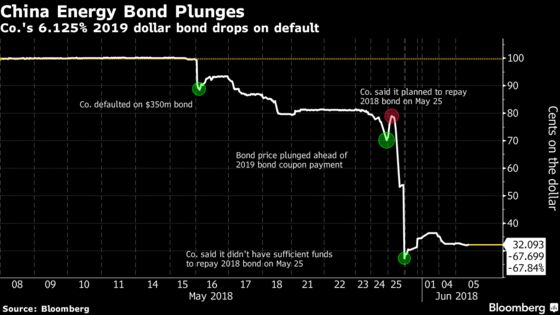 "The key here is for the issuer to be transparent and timely with information with its investors," said Alaa Bushehri, BNP Paribas Asset Management's London-based head of global emerging market corporates. "Consequences may range between higher premium and limited access to capital markets depending on how this plays out."
Sales of high-yield dollar bonds from Chinese issuers were already down by about 65 percent in May from a month earlier after at least 17 publicly issued bonds defaulted in local market this year, up from 13 in the year-earlier period, Bloomberg-compiled data show.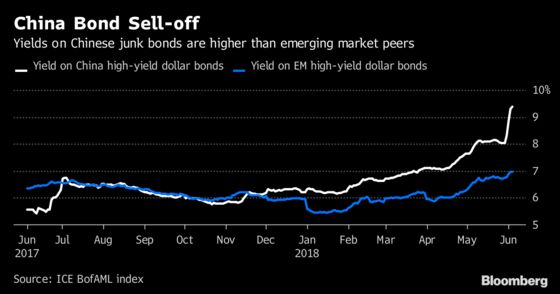 "This default coupled with broader risk-off sentiment globally is affecting spreads of lower rated issuers, making it more difficult to execute refinancing deals," said Abhishek Rawat, a director at Hong Kong-based China Merchants Securities Investment Management (HK) Co. This in turn raises default risks with large maturities coming up later in the year, he said.
China National Friend Industry Corp., owned by Beijing Municipal Commission of Commerce, controls a 49 percent stake in China Energy, Lin Jianbang, executive president at CERCG, told Bloomberg News last week. Lin declined to comment on the debt issues at the company.
China Overseas Holding Group Co. owned a 27 percent stake in China Energy while China Economic Cooperation Center held 15 percent and China National Petroleum Corp. had 9 percent as of December 31, according to the 2017 financial results of China Energy obtained by Bloomberg.
China National Friend Industry Corporation was founded by China's Air Force of People Liberation Army in the 1990s and China Economic Corporation Center is a unit under the China Communist Party Central Committee's International Department, according to people familiar with the matter.
China Energy has appointed FTI Consulting Inc. as financial adviser for its planned debt restructuring and engaged Ashurst LLP as legal adviser.
Government support shouldn't be taken for granted and it shouldn't imply that no credit work is needed, Chia said.
Defaults by China's state-run companies in the offshore market are rare. Guangdong International Trust & Investment Corp., which defaulted on so-called Yankee notes in 1998, was the first one. "How this is resolved will set the tone for expectations in terms of how these matters are addressed with Chinese SOEs," Bushehri said.
It is only during "stress events" that "one can clearly identify whether or not an enterprise will receive government support," according to Goldman Sachs Group Inc. in a June 1 report. "This is not something that can be easily analyzed prior to the occurrence of such events."
China Energy rose to prominence earlier this year when it pulled out of a $5.2 billion deal to buy a Hong Kong skyscraper from Li Ka-shing's company, after making an unsuccessful bid for Australian oil and gas explorer AWE Ltd.