China Economists See Pause, Not Halt, to Trump's Higher Tariffs
(Bloomberg) -- China will be able to delay an increase of President Donald Trump's tariffs, but will not escape that hit permanently, according to economists surveyed by Bloomberg News.
None of the 29 China-watching analysts surveyed in the past week expect the U.S. to increase tariffs on Chinese goods on March 1, a deadline set last year and one which negotiators in Washington this week are racing to meet.
That said, 18 of the analysts assume that tariffs will ultimately rise, signaling low confidence that China and the U.S. will be able to come to a permanent accommodation over their differences on trade and industrial policy.
Trump plans to meet with China's top trade negotiator Friday afternoon as the U.S. tries to forge a preliminary deal with its biggest economic rival, two people familiar with the matter said. The outlook for China's slowing economy depends to a large degree this year on clearing the uncertainty around higher tariffs.
If the threatened extra duties on some $200 billion of China's exports to the U.S. are imposed, that could shave 0.3 percentage point from the nation's economic output growth this year, according to Bloomberg Economics.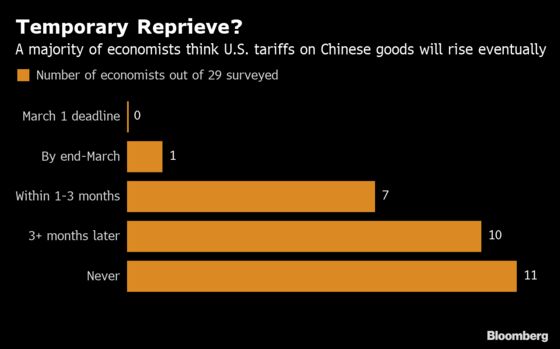 "We expect such a deal to be made in H1 2019, sufficient to prevent additional tariffs in the short term," said Amy Zhuang, chief analyst for Asia with Nordea Markets. "But such a deal will not make fundamental changes and prevent future confrontations, so additional tariffs on Chinese goods are still likely in late 2019 or 2020."
China has repeatedly offered to increase purchases of agricultural and energy products to shrink the deficit, as the Trump administration is pushing for what it terms "fair and reciprocal" trade. More fundamental issues -- such as technology transfers and the way China treats its state enterprises -- require more substantial concessions that China is reluctant to offer.
With a slowdown deepening, policy makers in the Asian nation are boosting lending to private companies and expediting local government debt sales to support infrastructure construction. Such investment in roads, rails or telecom networks will rise by 9 percent in 2019 from a year earlier, according to the median of economists surveyed, up from 3.8 percent last year.