China Developers Bite the Bond Bullet With Funding Costs Spiking
(Bloomberg) -- Some Chinese developers were quick to complete the bulk of their refinancing early in the year. Those who waited now risk paying dearly for their tardiness, with borrowing costs doubling since January.
An added complication for developers is that China's National Development and Reform Commission is said to have told several market participants that it is considering stricter assessments for companies looking to extend the validity of their offshore debt issuance quotas to next year, forcing some firms to borrow now rather than wait for market conditions to improve. The NDRC said it hasn't made any changes to the quota extension process.
China's home builders have sold $37 billion of dollar bonds so far this year for refinancing, and about 65 percent of that was completed by June, according to Bloomberg-compiled data. Meanwhile, average yields on Chinese junk bonds, which mainly consists of developers, have surged to a four-year high of 11.8 percent, according to ICE Bank of America Merrill Lynch Index.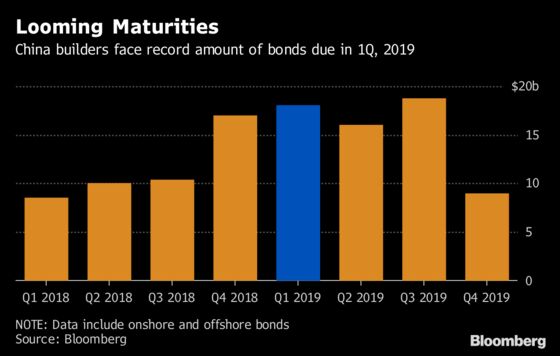 Developers are concerned about potential changes in NDRC's approach toward Chinese property bonds, according to Clement Chong, a senior credit analyst at NN Investment Partners. "If they can get the money quickly, then they would do it," he said, adding that current market conditions aren't helpful for issuers.
This week alone, Hengda Real Estate Group Co., a unit of China Evergrande Group, sold a $1 billion tap of a two-year bond at 11 percent after pricing a $1.8 billion offering in late October. Times China Holdings Ltd. sold a two-year offering at 11 percent and Greenland Holding Group Co. priced a one and a half year offering at 9.25 percent this month.
Developers have been caught by tight funding conditions due to a deleveraging push by policymakers, which combined with rising global interest rates has resulted in some of the steepest borrowing costs for dollar bonds in the region the for the sector. This comes at a time when they have $62 billion of bonds maturing in both onshore and offshore markets in 2019, according to Bloomberg-compiled data.
Country Garden Holdings Co, China's biggest developer by sales raised HK$7.83 billion ($1 billion) through a convertible bond at a higher cost to partly refinance a note due in January. It priced five-year convertible bonds with a 4.5 percent coupon to repurchase zero-coupon convertible bonds.
"No doubt financing costs will become challenging for builders," said Danielle Wang, a China property analyst at DBS Vickers Hong Kong Ltd. "But to survive, you'd rather park some money in pockets with whatever costs, than fussing about higher costs," she said.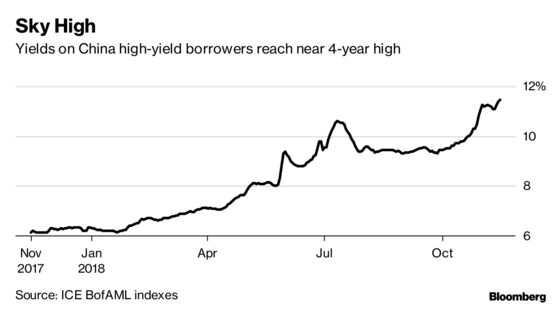 The rates on some Chinese junk-rated developers, like those offering yields of more than 10 percent for two-year tenors, look attractive, according to James Hu, a senior portfolio manager at Income Partners Asset Management (HK) Ltd.
The overall sentiment toward this sector remains cautious, Hu said, adding that investors remain concerned about supply pressure, and the possibility of onshore defaults having a ripple effect on the offshore dollar bond market.