China Developer Fans Default Concern With Dollar Bond Swap Offer
(Bloomberg) -- An embattled Chinese property developer has sparked concern about a potential default on a dollar bond, after offering investors a swap for cash and new bonds for the bulk of the $300 million note.
Yida China Holdings Ltd., a business park developer, proposed an exchange for at least 75% of the bond due April, saying its existing internal resources "may be insufficient to repay" the note, according to a company filing to the Hong Kong Stock Exchange.
Based on the offer, for each $1,000 of the bond, investors would get $80 in cash plus $920 worth of new notes due 2022. The interest on the new notes will be 10% for the first six months and 14% for the remainder of the tenor. The coupon for Yida's current dollar bond is 6.95%.
In a report published Thursday, S&P Global Ratings said it views Yida's offer as "distressed", adding that upon its completion, the ratings firm "would likely assess the transaction as tantamount to a default."
A bond failure would make Yida the second Chinese property developer to renege on dollar notes since Wuzhou International Holdings Ltd.'s default in 2018. It would also follow the footsteps of Tewoo Group Co. and Qinghai Provincial Investment Group Co. which have since December committed the two biggest dollar-bond defaults among Chinese state-run firms in 20 years.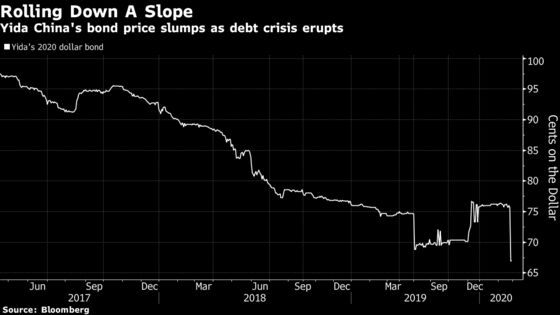 S&P lowered its long-term issuer credit rating on Yida to 'CC' from 'CCC-', adding that it will further downgrade it to 'SD', which stands for selective default, when the distressed exchange is completed.
"We believe the company is highly likely to default on its notes in the absence of a successful exchange offer," S&P said.
"Many distressed companies may have been inspired by Tewoo, and realized that they are no longer forced to pay international bondholders back par," said Owen Gallimore, head of credit strategy at Australia & New Zealand Banking Group.
Tewoo, a Tianjin-based commodities trader, unveiled a new playbook for offshore bond defaults by Chinese borrowers in December with a debt restructuring offer that imposed heavy losses on investors.
If investors reject the offer, Yida said it may not be able to repay the dollar notes upon maturity in April and it may consider engaging Admiralty Harbour Capital Ltd. as its financial adviser to contemplate an alternative debt restructuring plan.
Signs of stress emerged Friday when Yida's dollar notes plunged the most on record after it said Chinese authorities detained one of its senior officials for suspected embezzlement.
Yida officials couldn't immediately be reached for comment.
S&P said in a report published in December that Yida's parent China Minsheng Investment Group Corp. was in discussion to sell its stake in Yida to a third party. The financial conglomerate that once aspired to become China's JPMorgan indirectly holds 61.20% of Yida's shares via a subsidiary.
Yida said its funding access has been "negatively affected" since China Minsheng Investment Group became deeply mired in its own debt crisis last year.
Besides the $300 million dollar bond, the property developer also has another 7 billion yuan in borrowings maturing in the period from the end of September through the end of this year, including a 800 million yuan onshore bond due September 2020, according to S&P.