China Clampdown on Coal Imports Looms After Record Buying Spree
(Bloomberg) -- China is cracking down on coal imports after a surge early this year, sending prices in the world's biggest market to the largest premium to foreign supplies in four years.
The clampdown is the latest in a years-long seesaw as China's government uses imports as a lever to keep prices in a range suitable for both producers and consumers at home. The curbs have been a relief for Chinese miners, who suffered shutdowns and low prices during the coronavirus outbreak earlier this year.
Analysts from Morgan Stanley to Bloomberg Intelligence see stricter adherence to import quotas limiting inbound coal shipments in the second half of 2020. The curbs helped lift Chinese coal futures to the equivalent of a $26-a-ton premium to the Asia-Pacific seaborne benchmark on June 30, the widest since August 2016.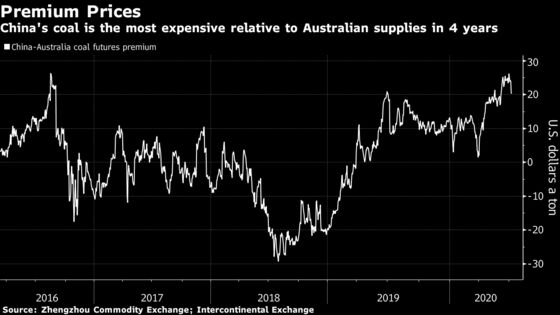 "As most ports reach annual quotas, we expect more imports to be rejected, putting pressure on seaborne prices," Morgan Stanley analysts including Sara Chan said in a July 7 note. "The volume shortfall will be filled by local supply as new capacity starts."
Government officials so far haven't issued new quotas, so some ports that are nearing their limits have already suspended clearances, according to a person familiar with the situation. Meanwhile, other ports that allocated their quotas to specific companies are reassigning unused portions, the person said, asking not to be identified as the information isn't public.
China's General Administration of Customs, as well as the National Development & Reform Commission, didn't respond to faxed requests for comment.
Customs officials will refuse to clear cargoes if they're at risk of going over the limit, which Beijing doesn't publicize. In 2018, foreign purchases were shut out almost entirely in the last weeks of the year to hold imports near 280 million tons. Last year, imports fell from about 21 million tons in November to 2.8 million in December to stay under 300 million for the year.
Imports surged at the start of 2020, mainly because most December cargoes had to wait until January to clear customs. Purchases have hit 149 million tons through the end of May, a record for that period. Indonesia and Australia are the biggest shippers of coal to China.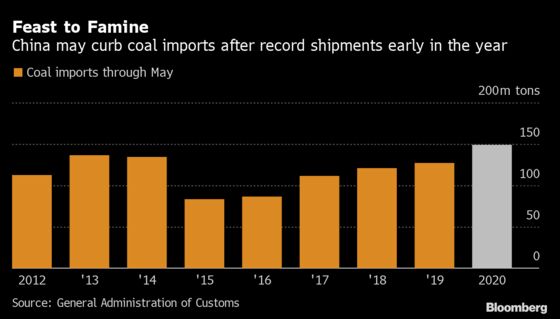 This year the market expects China to cap annual imports at about 280 million tons, meaning more than half the quotas were gone by the end of May and leaving them tight for the rest of the year, said Zeng Hao, an analyst at consultancy Fenwei Energy Information Services.
Based on last year's import levels, nearly half of China's ports have already exceeded 60% of their annual quotas by the end of April, according to Morgan Stanley. Huangpu port, for example, had imported nearly 11 million tons by April 30, leaving it with only about 5.9 million tons for the remainder of the year.
While domestic prices are rising, seaborne rates have suffered. The problem has been exacerbated by the pandemic, which slashed power and coal demand in other markets like India that would normally pick up the slack, Citigroup Inc. analysts including Ephrem Ravi said in a July 8 note. Newcastle coal for September delivery on ICE Futures Europe is down 19% since March 27.
The spot price of coal in China's main port of Qinhuangdao fell during the import binge to 464 yuan a ton on May 6, the lowest since 2016. It's since rebounded to 590, the highest in more than a year.
"The current spot price is reasonable amid summer demand peak season, so it's unlikely that China will loosen curbs on coal imports," Zeng said. However, if spot coal price rises above 600 yuan per ton, the government may consider the possibility of allowing more imports, he said.