China Churns Out Almost 1 Billion Tons of Steel, Smashing Record
(Bloomberg) -- China's annual steel output notched a fresh record last year, surging to just short of 1 billion tons amid healthy demand.
Crude steel production jumped 8.3% to 996.34 million tons, the National Bureau of Statistics said. Output in December surged 12% from a year earlier to 84.3 million tons, the highest since August.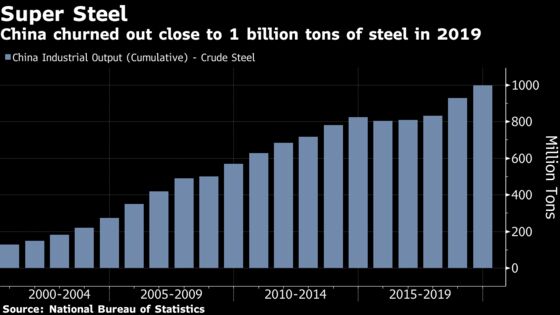 Steel consumption increased 6% in 2019, supported by demand from infrastructure and property sectors, according to the China and Iron Steel Association. The group predicts the expansion will continue this year, forecasting growth of 2%.
At the same time, elevated output reflects the challenges the world's top steel market faces in reining in oversupply. Xinhua News reported this month that China will ban new steel capacity and seek better controls on production to curb pollution.
Mill margins, which had tumbled last year after iron ore prices climbed, rebounded in the final months of 2019 and have been stable so far in January.
Data earlier this week showed China imported the most steel since 2011 in December as its robust domestic market contrasts with a global industry struggling with slowing demand.
Iron ore futures in China maintained gains after the data, trading 1.4% higher by 10:46 a.m. local time. Steel rebar rose 0.8%.
China's economy stabilized last quarter after slowing to the weakest pace in almost three decades. Gross domestic product rose 6% in the final quarter of 2019 from a year earlier, the same as in the previous three-month period and the median estimate.
Industrial output rose 6.9% in December from a year earlier, beating estimates.
Property development investment climbed 9.9% in 2019. Property is a driver of steel demand in China, which produces half the world's steel.