China Chopstick Debacle Puts Dolce & Gabbana's Future at Stake
(Bloomberg) -- Dolce & Gabbana's Chinese marketing scandal is fashion's biggest faux pas since former Christian Dior designer John Galliano's anti-Semitic rant in 2011, and it's potentially far more costly.
While Dior got out of that mess by swiftly dismissing Galliano, D&G's owners initially offered few explanations even as a boycott movement spread through luxury's biggest growth market. Even after an apology from the Milan-based brand Friday, damage control will be trickier as the firm is still owned and operated by the designers with their names on the door.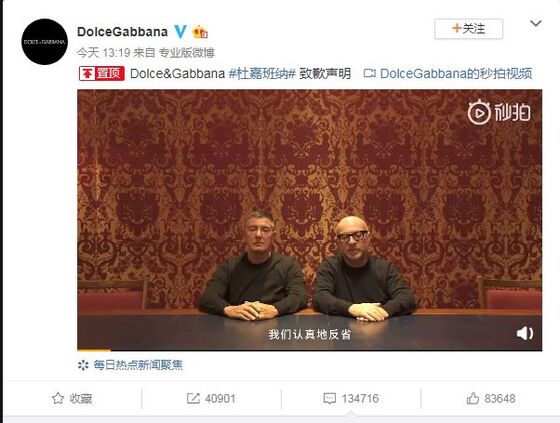 "Consumers don't just buy a product. They buy an idea, an image that has values embedded in it," luxury consultant Mario Ortelli said. With China's shoppers making up around two-thirds of the industry's growth, "everyone needs Chinese trust."
Almost all major Chinese e-commerce sites including Alibaba Group Holding Ltd.'s Tmall and JD.com Inc. have suspended the sale of D&G products in China since the brand posted an ad showing a Chinese model struggling to eat Italian food with chopsticks, which consumers deemed condescending. The boycott spread to foreign sites, with Richemont's Yoox Net-A-Porter removing the brand's items from its Chinese and Hong Kong portals.
The scandal intensified after degrading remarks about Chinese people were sent from co-owner Stefano Gabbana's Instagram account. On Friday, the founders said sorry in Mandarin in a video clip, apologizing to Chinese people worldwide.
"We will not forget this lesson and this will never happen again," Gabbana said in the video. "And we must try harder to understand and respect Chinese culture. Finally, we ask from the bottom of our hearts for your forgiveness."
The fallout also spread offline to bricks-and-mortar retailers on Friday, with Lane Crawford removing D&G items from its department stores in China and Hong Kong.
The marketing videos were taken down between Thursday evening and Friday morning. In their apology clip, the designers didn't repeat an earlier allegation that their Instagram accounts were hacked. They had earlier said that was the reason for the derogatory comments about Chinese people on Gabbana's account.
'Multinational, Multicultural'
Providing evidence the account was hacked could help regain Chinese trust, said Luca Solca, analyst at Exane BNP Paribas.
The crisis shows the need for a "multinational, multicultural, diverse leadership organization, able to perceive and integrate different sensitivities," Solca said. Dior, controlled by luxury conglomerate LVMH, wasted no time in showing Galliano the door after he hurled anti-Jewish insults at a couple in a Paris bar, and the designer later apologized.
The challenge for D&G is that it's not a multinational giant but a closely held Italian business run by its two founders -- Gabbana and Domenico Dolce. A tongue-in-cheek, cartoon-ish characterization of Italian identity -- with ad campaigns showing large families touching each other and yelling in public -- has been a staple of D&G's marketing.
That pitch helped expand the company's sales to 1.35 billion euros ($1.54 billion) last year, according to Business Insider. D&G is bigger and more profitable than rival Gianni Versace, which Michael Kors Holdings Ltd. is buying for $2.2 billion. But trying to export its ironic marketing tone to China may have been a step too far.
The two founders, who created the brand in 1985, have resisted the trend among family owners of luxury firms to sell to giants like LVMH and Kering SA, the owner of Gucci. As demand for acquisition opportunities among both fashion conglomerates and private equity funds has pushed luxury valuations skyward, Gabbana and Dolce have consistently said they'd never consider selling.
"Once we're dead, we're dead," Gabbana said in an interview with Italian newspaper Corriere della Sera last spring. "I don't want a Japanese designer to start designing Dolce & Gabbana."
The brand was able to weather online criticism of that remark. But the latest storm is far more intense. Some Chinese consumers went so far as to post videos of themselves destroying their D&G wares following his remarks.
Ryan Meng, a Paris-based fashion buyer for Chinese boutiques, was one of many to joke online that D&G now stood for "dead and gone" following the incident. "It's extremely unfortunate for all the Chinese team helping to handle the operation while working for someone like that," he said.