China Won't Exit From Stimulus Prematurely, PBOC's Yi Says
(Bloomberg) -- China's central bank won't exit "prematurely" from its supportive monetary policies while at the same time keeping debt risks under control, Governor Yi Gang said.
Monetary policy will continue to "prop up the economy," Yi said on a panel hosted by the World Economic Forum Tuesday. Officials will remain mindful of risks, such as a rising macro leverage ratio and higher non-performing loans, he said.
"Looking forward, I think our monetary policy will continue," he said. "We will keep a delicate balance between supporting the economic recovery, at the same time, preventing risk," he said.
Yi's comments largely echoed those he gave Monday at a virtual conference hosted by Hungary's central bank, signaling no change in the central bank's existing policy stance.
However, financial markets were roiled Tuesday after the central bank withdrew cash from the banking system and an adviser to the People's Bank of China warned about asset bubbles. The PBOC withdrew $12 billion on Tuesday, an unusual move so close to the Lunar New Year holiday in February, and followed that by draining about $15 billion in liquidity on Wednesday.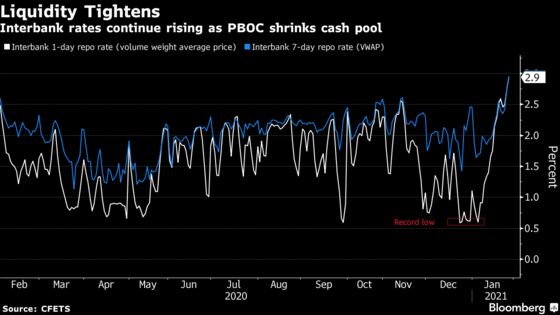 Ma Jun, an adviser to the central bank, said recently asset bubbles in the stock and property markets would continue if monetary policy remains unchanged.
Securities Times said Wednesday in a commentary that market shouldn't exaggerate the impact of PBOC's short-term liquidity operations, adding that there is no need to be too optimistic or too pessimistic about funding.
Yi didn't address those risks specifically on Tuesday, while largely repeating the central bank's recent policy stance.
"We will ensure that policy is consistent and stable and will not exit from supporting policy prematurely," he said.
Turning to the economy, Yi said China will return to around potential growth rate this year, with exports remaining "pretty strong" and consumer spending picking up. He also said authorities were making progress in boosting the contribution of consumption in the economy.
"Our saving rate is starting to decline a little bit every year," he said. "That is a good indication that more growth is coming from consumption."
Monetary and fiscal policy will focus on "maximizing employment" he said, adding that a stable labor market should "guarantee very good consumption."
Yi also addressed Ant Group Co.'s failed initial public offering, saying the company could resume its plans once problems raised by the regulators have been resolved.