China Calls Any Challenge on Taiwan 'Extremely Dangerous'
(Bloomberg) -- China's defense minister warned that any effort to challenge its authority over Taiwan was "extremely dangerous," following recent U.S. moves that signaled greater support for the democratically run island.
General Wei Fenghe, the minister of national defense, made the remarks Thursday at the start of a regional military forum in Beijing, in which he also called on American leaders to drop what he said was a "Cold War mentality." His speech came just days after the U.S. Navy sailed two warships through the Taiwan Strait, in the second such show of military support since July.
"Taiwan is China's core interest," Wei said. "On these issues, it's extremely dangerous to challenge China's bottom line repeatedly. If anyone tries to separate Taiwan from China, China's military will take action at all costs."
Taiwan has reemerged as a flashpoint in U.S.-China relations as their trade spat aggravates a host of security disputes between the two sides. China has repeatedly protested U.S. moves to bolster ties with Taiwan, amid a spat between Beijing and the island's pro-independence government that took power after a 2016 election.
In recent months, the U.S. has signaled a broader push back against China's growing military reach in the region, with President Donald Trump vowing to outspend it in an arms race after his decision to withdraw from an anti-missile treaty with Russia. The U.S. has also criticized what it says are Chinese efforts to "militarize" outposts it has built on reclaimed land in the South China Sea, by building bases and deploying missile batteries.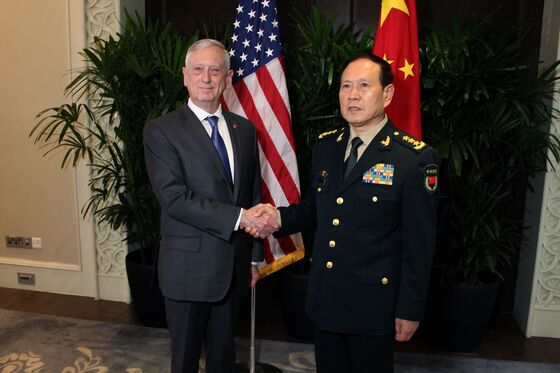 Wei, who met with U.S. counterpart Secretary of Defense James Mattis at a regional security meeting Friday in Singapore, said military facilities were needed to protect Chinese interests in the South China Sea. Destroyers from the two navies nearly collided in the area last month during a U.S. "freedom-of-navigation operation" to challenge what it says are illegal territorial claims by China and its neighbors.
"The South China Sea situation is stabilizing, which proves that all countries can take care of their own affairs," Wei said. "China opposes countries that come to the South China Sea from outside of the region in the name of freedom of navigation to show force and provoke, which leads to rising tensions."
Wei is one of seven members of the Communist Party's Central Military Commission, which is led by President Xi Jinping. He was speaking at the start of the Beijing Xiangshan Forum, China's answer to the Western-dominated Shangri-la Dialogue held annually in Singapore.
The minister said China had no interest in engaging in an arms race. He also denounced Trump administration claims that the Chinese government was attempting to meddle in the U.S. midterm elections, saying the accusations had "severely damaged" ties.
"It has been proven that a hegemonic and confrontational security model is outdated," Wei said. "The world shouldn't repeat the Cold War. All countries should respect each other's sovereignty, security and development rights."