China Builders Swap Bond Roadshows for Calls Amid Virus Fear
(Bloomberg) -- Some Chinese borrowers are pressing ahead with plans to market dollar bonds even if their only contact with investors is now through the phone.
In the wake of the coronavirus outbreak, some issuers such as Chinese property developers are canceling non-deal roadshows in favor of conference calls, said Raymond Chia, head of credit research for Asia excluding Japan at Schroder Investment Management.
That's a challenge for borrowers, especially first-time issuers who don't yet have a track record in the market, because it may be harder to brief investors by calls rather than face-to-face meetings.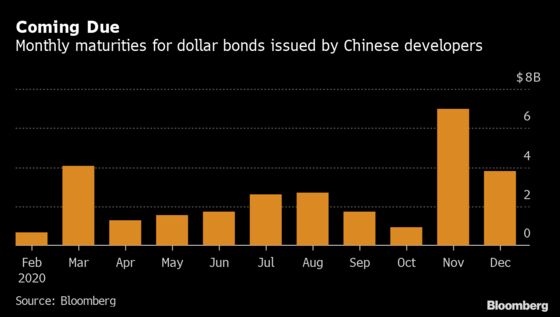 With the coronavirus having killed more than 360 and spreading to over 17,000 people, the nation's builders are running against time. They need to pay off or refinance a sizable chunk of offshore debt in March when about $4.1 billion comes due, the second-highest monthly total this year. Issuers may face higher borrowing costs as spreads climb to new highs for 2020, according to Bloomberg indexes.
"Regardless of disruption to roadshows, we could still see some issuance in the primary market in February and early March," particularly as companies look to borrow before their blackout period ahead of their reporting last year's fourth-quarter earnings, Chia said.
Developers are already under pressure with property sales set to collapse this month as firms close their sales offices, Bloomberg Intelligence analysts including Kristy Hung wrote in a Monday note. Guangdong and Zhejiang provinces are likely to suffer most after Hubei, hurting sales for Logan Property Holdings Co., Yuexiu Property Co., KWG Group Holdings Ltd. and Agile Group Holdings Ltd., Hung said.
While the virus outbreak isn't expected to materially affect Chinese developers' credit standing, weaker property firms may encounter liquidity crunches if the crisis lasts beyond several months, according to S&P Global Ratings in a report Monday.
"These companies would be challenged if the coronavirus severely crimped sales for just several months," the report said. "In addition, weak developers that rely on asset disposals to deal with maturing debt may find it difficult to close deals as most potential buyers may take a step back."
Many developers count on steady cash flow as a liquidity lifeline, S&P said. As such, for the property firms at least, the key issue of the coronavirus crisis "will not be its intensity, but its longevity," it said.
Click here for a pipeline of Asian issuers who may sell global bonds in the coming weeks