China Bonds Still Under Pressure Despite PBOC Cash Injection
(Bloomberg) -- China's bond futures slid the most in two weeks amid concerns over wealth management rules, even after the central bank added cash to money markets to maintain interbank liquidity levels.
Futures contracts on China's 10-year sovereign bond dropped 0.35%, the most since August 13, to 99.78. The 10-year sovereign bond yield climbed 3 basis points to 2.89%. This came after the People's Bank of China added net 40 billion yuan ($6.2 billion) of liquidity through its seven-day reverse repurchase agreements on both Wednesday and Thursday to help maintain money market stability at month-end.
The bond market sentiment seems to have been weighed down by a Caxin report that Chinese authorities have outlined more specific requirements for valuing banks' wealth management products, and set earlier deadlines for disposing of certain nonstandard credit and equity assets.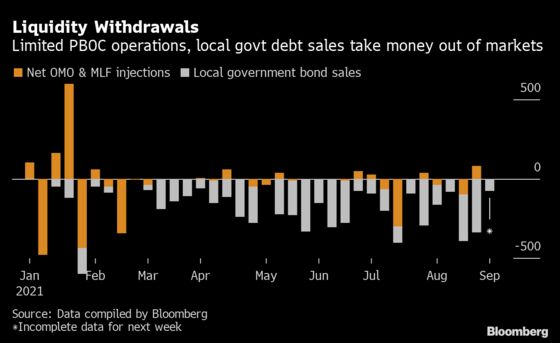 "Tighter regulation on bank wealth management products triggered worries of weaker buy-side demands for bonds and possible liquidation shocks," Qin Han, analyst at Guotai Junan Securities wrote in a note.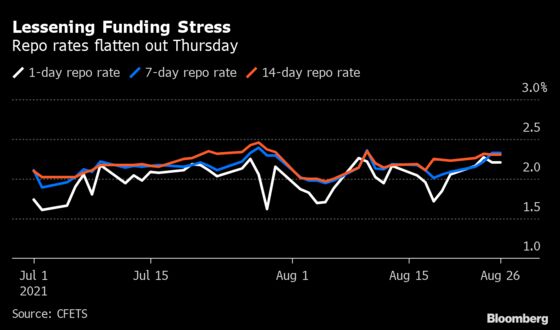 The question now is whether the drop in bond markets will cause the central bank to add money to markets at a faster pace, or whether the PBOC will continue with the current policy of limited injections. Interest rates in the repo market were flat or fell Thursday after rising steeply from late last week, indicating banks were under less stress to get funding in the interbank market. 
"The OMO injection today was likely an extension of what was done yesterday to ease near-term funding tightness." said Winson Phoon, head of fixed income research at Maybank Eng Kim Securities Pte Ltd. in Singapore. "It doesn't change the PBOC's liquidity neutral stance," he said, adding that policy makers are trying to do just enough to ensure liquidity is sufficient to keep funding stable.