China's Bad Bank Offers to Ease Liquidity Crunch at CMIG
(Bloomberg) -- A Chinese state-owned bad bank has signed an agreement with China Minsheng Investment Group Corp. to help alleviate a cash crunch at the embattled private investment colossus.
Great Wall Asset Management Co. will help CMIG ease liquidity pressure and optimize its asset and liability structure, Great Wall said in a statement on Thursday. A unit of the distressed asset manager will also serve as financial consultant for CMIG. The subsidiary has participated in debt restructurings including China's first local bond defaulter Shanghai Chaori Solar Energy Science & Technology Co., it said. CMIG's dollar bond maturing in August jumped following the news.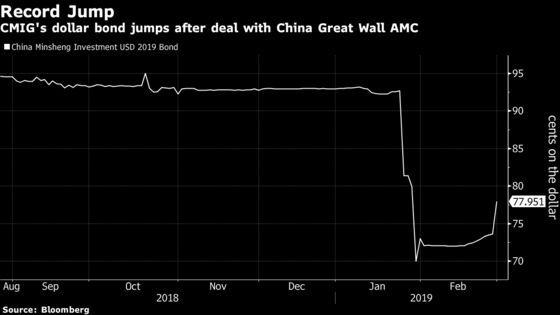 CMIG, formed by 59 private sector companies in 2014 with endorsement of Premier Li Keqiang, missed a local bond payment last month after access to funding tightened as a result of the shadow banking crackdown. The Shanghai-based firm held a creditors meeting on Monday and asked financial institutions to allow it a two-year buffer period while it sorted out its finances, people familiar with the matter said earlier.
CMIG will aim to speed up its business upgrade with the help of Great Wall as they look to become a "model" of collaboration between a state-owned financial institution and a big private sector company, according to the statement. Calls to CMIG's financing manager went unanswered.
At stake is a debt pile of 152.2 billion yuan ($23 billion), one of the largest among non-state firms, and of which 89.4 billion yuan will come due in 2019. The debt levels were disclosed at the creditors meeting in Shanghai.