China Baby Stocks Climb as Government Mulls Lifting Birth Limit
(Bloomberg) -- Chinese formula and maternity-care stocks advanced after the country was said to be close to ending limits on the number of children a family can have, though the gains could be short-lived as a baby boom seems unlikely.
Maternity goods firm Shanghai Aiyingshi Co. surged by the 10 percent daily limit at the close, and Beingmate Baby & Child Food Co. climbed 1.4 percent in Shenzhen on a day of muted moves in China's stock markets. Guangdong Qunxing Toys Joint-Stock Co. added 2.9 percent, and incubator maker Ningbo David Medical Device Co. also rose. Even piano makers enjoyed a boost, with Hailun Piano Co. and Guangzhou Pearl River Piano Group Co. advancing.
"The removal of birth limits won't necessarily bring about a baby boom, so it's likely a speculative trade that won't last long," said Zhang Gang, Shanghai-based strategist with Central China Securities Co. "Big funds wouldn't want to engage in such short-term trades, and the sector is just not big enough to handle the inflows."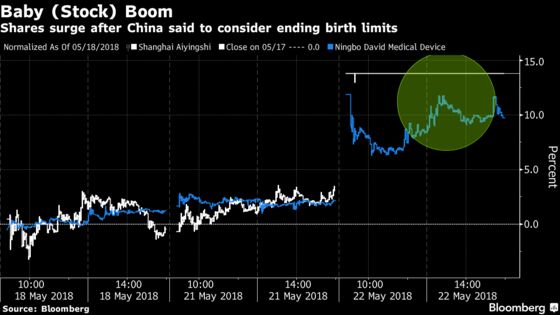 China's cabinet is looking at what might happen if the country ended its roughly four-decade-old policy, said people who asked not to be named while discussing government deliberations. The country is facing the prospects of a rapidly aging population and has dealt with foreign criticism of its family-planning policies.
Read More: Why More Children May Be Bad for Economic Growth
Baby-related stocks in Japan also rose, with Pigeon Corp., Unicharm Corp. and Nippon Shokubai Co. adding at least 2 percent. Chinese tourists are known to go on shopping binges for high-quality consumer products on trips to countries like Japan.
The benchmark Shanghai Composite Index closed little changed, and the big-cap CSI 300 Index slipped 0.4 percent.