China Credit Growth Slows After a Record Quarter for Loans
(Bloomberg) -- China's credit expansion slowed in April as the central bank guided loan growth to more moderate levels following a record first quarter.
Aggregate financing was 1.85 trillion yuan ($287 billion), the People's Bank of China said Wednesday. That compares to 3.3 trillion yuan in March and 3.1 trillion yuan in the same month last year. The median estimate in a survey of economists was 2.29 trillion yuan
Financial institutions offered 1.47 trillion yuan of new loans in the month, versus a projected 1.6 trillion yuan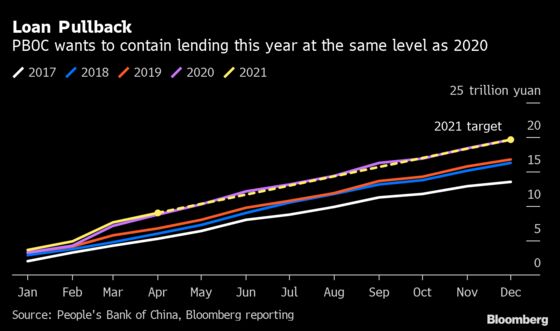 The central bank is reining in credit growth this year as it seeks to slowly wind back pandemic-fueled stimulus. The PBOC in March asked banks to curtail loan growth in the coming months and keep it at roughly the same level as last year.
"The policy guidance for slowing credit has been materializing, while financial authorities were more cautious on lending," said Ken Cheung, chief Asian FX strategist at Mizuho Financial Group Inc. The PBOC's dormant liquidity injection operations also played a role in slower money supply growth, he said.
The slowdown comes after Chinese banks extended a record 7.67 trillion yuan worth of loans in the first quarter this year, driven by the economy's strong recovery momentum.
"The authorities have intended to slow down credit growth, which is the main theme of monetary policy normalization this year," said Lu Ting, chief China economist at Nomura Holdings Inc. The crackdown on both excessive leverage in the property sector and the illegal use of business loans to buy property this year has also contributed to the credit deceleration, he said.​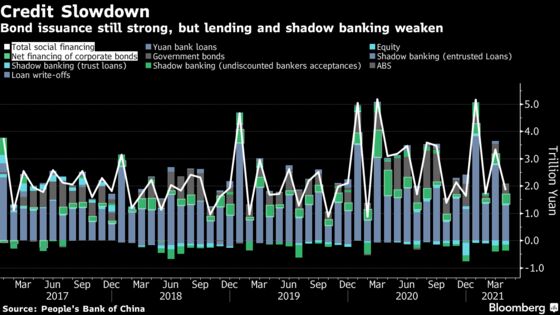 In April, broad M2 money supply grew 8.1%, lower than the previous month's pace of 9.4% and the slowest rise since July 2019
The stock of outstanding credit rose 11.7%, the slowest pace in more than a year, to reach 296.2 trillion yuan. The stock of outstanding yuan loans rose to 180.8 trillion yuan
Shadow banking -- comprising entrusted loans, trust loans and undiscounted banker's acceptances -- fell 369.3 billion yuan last month
Net corporate bond issuance was 350.9 billion yuan, while government bond financing was 373.9 billion yuan