China 2019 Offshore-Bond Defaulters Span an Airport, Solar Tech
China's record boom in debt issuance abroad in recent years has left a sour after-taste for bondholders: missed payments on billions of dollars worth of securities.
In what's now become a new normal for the $815 billion-plus Chinese offshore-debt market, at least seven borrowers defaulted in 2019. About $3.6 billion of bonds went into default last year, up from $3.3 billion the year before, according to data compiled by Bloomberg.
The 2019 tally spanned a state-owned commodity trader to a onetime Coca-Cola Co. acquisition target. And with nearly half of the supply of stressed bonds -- those with yields of at least 15% -- coming due this year, the ranks of defaulters is expected to swell.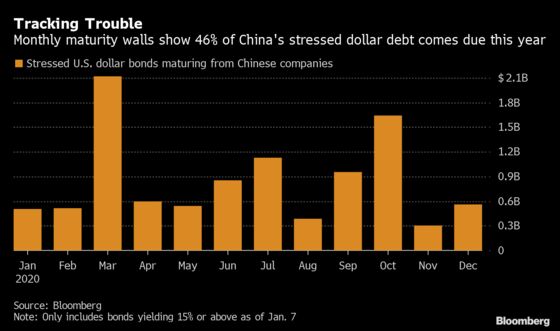 "I absolutely expect to see more onshore defaulters spilling offshore and repeat offenders this year," said Owen Gallimore, head of credit strategy at Australia & New Zealand Banking Group Ltd. The pace is driven by increased issuance alongside moves by policy makers to squeeze China's shadow-financing sector, he said.
The following are short profiles of the 2019 offshore defaulters:
Tewoo Group Co. became China's first state-owned enterprise in two decades to default on dollar bonds late last year. Based in the industrial city of Tianjin, southeast of Beijing, bondholders were offered as little as 37 cents on the dollar for their securities. Tewoo's businesses ranged from commodities trading to mining, logistics, and infrastructure.
Tewoo ranked 132 in 2018's Fortune Global 500 list, and ran into a liquidity crunch last spring, and ultimately had to default when no further official support was forthcoming. The work-out program outlined by Tianjin has now put a spotlight on state asset managers tasked with cleaning up troubled borrowers.
China Minsheng Investment Group Corp. once set out to become China's version of JPMorgan Chase & Co. -- a private-sector investment banking champion. At one time endorsed by Premier Li Keqiang, the group had amassed about $34 billion in liabilities in 2018. After spending more than $4 billion in investments, it surprised bondholders with a delayed payment on its yuan bonds in January 2019. A few months later, default provisions were triggered on two of its dollar bonds.
With as much as $2.4 billion of debt maturing this year, according to Bloomberg-compiled data, the company is scrambling to free up cash by slashing executive pay and selling its assets.
Huachen Energy Co. entered the defaulters' ranks for 2019 in December, when it failed to pay interest on a $500 million note before the end of a grace period. Huachen was indirectly wholly owned by Wintime Energy Co. as of September, according to Moody's Investors Service. Wintime was already the No. 2 Chinese defaulter for 2018 in the domestic market, a casualty in policy makers' moves to rein in leverage across the economy.
A coal miner, Wintime's original plan was to borrow to fund acquisitions and expand into areas including finance and logistics. As borrowing costs tumbled from 2014, funding was easy to get. But that started changing in 2016, when President Xi Jinping began putting emphasis on reining in financial risks. Without a state-owned white knight coming to the rescue, Wintime's troubles kept rolling through 2019.
Kangde Xin Composite Material Group Co. looked in solid financial health in 2018, but those accounts later proved a fiction, according to a state regulator. The company, based in the eastern province of Jiangsu, defaulted on a domestic bond at the beginning of last year, and one of its units later reneged on a $300 million bond.
The China Securities Regulatory Commission said in July Kangde Xin faced severe punishment for faking profits. Then in December, the firm's de facto controlling shareholder Zhong Yu was arrested over a suspected unspecified crime, according to a stock exchange filing.
Solar-farm operator China Singyes Solar Technologies Holdings Ltd. has been a repeat dollar-bond defaulter, failing to pay up on two offshore notes last year, including a $260 million bond. Private firms have struggled to thrive in the solar sector as state-owned enterprises increasingly dominate, according to one credit rating company.
Haikou Meilan International Airport Co., the main facility serving China's tropical Hainan Island, is backed by units of HNA Group Co. HNA shot to prominence between 2016 and 2017 after spending more than $40 billion on acquisitions across six continents, a debt-fueled spending spree that later incurred Beijing's scrutiny.
The airport operator failed to make good on a $200 million bond in September. HNA Group itself has yet to miss a repayment on a public bond, according to data compiled by Bloomberg.
A onetime target of Coca-Cola Co., China Huiyuan Juice Group Ltd. may be the country's leading pure juice-maker, but its finances are in a squeeze. Struggling to recover from governance issues that emerged in 2018 -- it loaned money to a company related to chairman Zhu Xinli -- it failed to repay a Hong Kong dollar convertible bond at the beginning of 2019.
Calls to Tewoo, Huachen Energy, Kangde Xin and China Singyes asking about repayment plans and challenges went unanswered. CMIG, HNA, and Haikou Meilan Airport declined to comment. Huiyuan Juice didn't immediately respond to emailed requests for comment.