NYC Urges Self-Isolation for Visitors to 5 Nations: Virus Update
(Bloomberg) -- The number of coronavirus cases in the Seattle area surged by 20, and 11 more New York state residents were confirmed to have the infection. New Jersey reported its first two cases, one a health-care worker.
The Trump administration won't be able to meet its goal to have a million coronavirus tests available by the end of the week, senators said. The U.K. and Switzerland reported their first fatalities.
The head of the World Health Organization threatened to name countries that aren't doing enough to fight the outbreak. Fatalities moderated in China, and cases appeared to slow in South Korea. Infections surged in Iran.
Global cases 97,426; death toll 3,345
Airlines fall most since 2011 on 'gut punch'
Italy pledges 7.5 billion euros; cases surge to 3,858
U.S. mortgage rates sink to record low on virus fears
Click VRUS on the terminal for news and data on the coronavirus and here for maps and charts. For analysis of the impact from Bloomberg Economics, click here.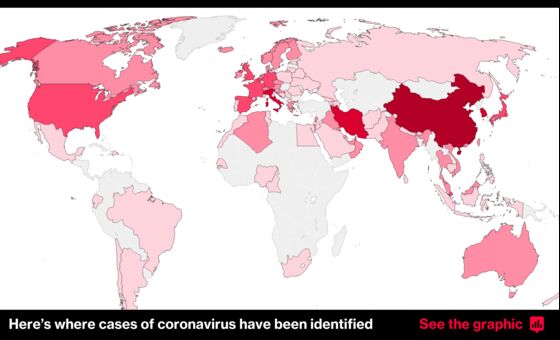 California's Santa Clara County Cases Jump to 20 (6:07 p.m. NY)
Santa Clara County, the heart of Silicon Valley, recommended that large gatherings be postponed or canceled after the number of confirmed coronavirus cases rose to 20.
Six more people were confirmed to have the virus since yesterday. Sara Cody, health officer for the county, said the area is no longer in containment mode as it's getting harder to trace the contacts of each confirmed case.
Quest, LabCorp to Start Testing for Coronavirus (5:26 p.m. NY)
Quest Diagnostics Inc. and Laboratory Corporation of America Holdings, which dominate medical testing in the U.S., will start testing for the novel coronavirus.
LabCorp said its tests will be available later Thursday. Quest said it will roll out its service on March 9.
U.S. health agencies are struggling to test people after problems with the original kits developed by the Centers for Disease Control and Prevention.
EBay Bans New Listings of Face Masks (5:26 p.m. NY)
EBay Inc. is banning new listings for face masks, hand sanitizer and disinfecting wipes "due to regulatory restrictions across the United States," the San Jose-based company said Thursday.
The news comes as demand surges have prompted sellouts in stores, skyrocketing prices online and pressure from regulators to enforce price- gouging laws. Packs of hand sanitizer that usually sell for $10 were listed on online marketplaces for up to $400.
Before Thursday's announcement, EBay said it had been "taking action to mitigate the inflated price of masks listed on the site." The online marketplace was pulling listings for face masks that exceeded $7.50 per mask -- about 10 times the usual 75 cents.
NYC Urges Voluntary Quarantine For Travelers (3:58 p.m.)
New York Mayor Bill de Blasio said all New Yorkers should voluntarily quarantine themselves for 14 days if they have returned from China, Iran, Italy, South Korea or Japan within the past two weeks. Anyone returning from these nations who has respiratory illness should seek medical care immediately, de Blasio said.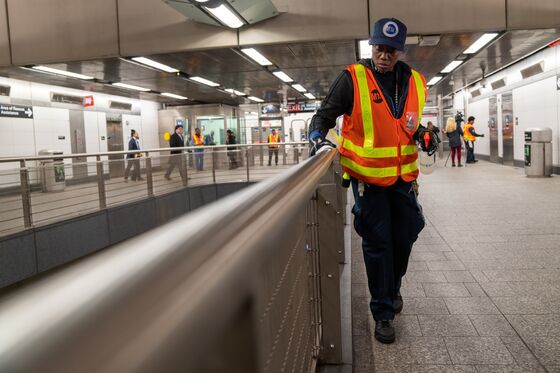 N.J. Patient Is Health-Care Worker (3:30 p.m. NY)
A coronavirus patient in Fort Lee, New Jersey, is a health-care worker with a residence in Manhattan, according to a person familiar with the matter.
The infection of health-care workers is of particular concern for two reasons: They could have contracted the disease from a patient, or they could have been around vulnerable people while sick. The patient, who hadn't traveled internationally, fell ill March 2 after attending a conference in New York City, the person said.
The patient sought care at a walk-in clinic in Bergen County, then was sent to Hackensack University Medical Center and placed in isolation, state Health Commissioner Judith Persichilli said at a news briefing. She also confirmed a second case in the state.
NYC Says Cases Raise Community-Spread Concern (3:21 p.m.)
Neither of the two latest cases of coronavirus in New York City has traveled to a country with the disease or has a direct connection to an infected person, raising the possibility of community spread, Mayor Bill de Blasio said. Disease detectives are tracing the each patient's contacts, and the city has asked federal authorities for aid.
One of the patients is a man in his 40s, and the other is a woman in her 80s, he said. Both are in intensive care at private hospitals in Brooklyn and Manhattan.
"When you have community-spread dynamic, we have to assume it could be anywhere in the city," de Blasio said. "We have a public health-care apparatus that's the best in the world, but we are sober right now about what the future might bring."
Virus Cases Surge in Seattle Area (3 p.m. NY)
Twenty new cases of the virus were reported Thursday in the Seattle area, and one more person who had been previously diagnosed with the coronavirus there died, local officials announced.
That brings the total cases in King County to 51, according to local officials. The person who died was a women in her 90s who had been hospitalized at EvergreenHealth, which has treated many of the sickest cases.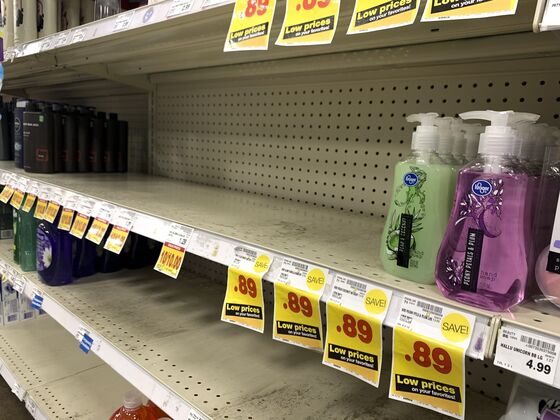 First San Francisco Cases; Ship Passengers Tested (3 p.m. NY)
San Francisco has two confirmed cases, Mayor London Breed said. The patients are a man in his 90s and a women in her 40s who are being treated in isolation at separate hospitals. Both infections appear to have been from community transmission.
Testing kits have been flown in for passengers on a Princess cruise ship that has been linked to the virus and is being held off the California coast. Thirty-five people have shown flu-like symptoms during the ship's voyage to Hawaii and are being tested, though some of those people are no longer showing symptoms, San Francisco officials said.
The ship had originally been planned to dock in the city, but state officials are now working with the U.S. Centers for Disease Control and Prevention to determine where it will eventually land. The ship has 2,383 passengers on board, as well as 1,100 crew members.
Toyota Dealer Near Seattle Closes After Worker Tests Positive (1:51 p.m. NY)
An employee at a Toyota dealership in Washington state tested positive for the coronavirus, prompting the showroom's shutdown until March 9, the automaker said Thursday in a statement. The dealer in the Seattle suburb of Kirkland was informed about the diagnosis late Tuesday, and Toyota said it has been in contact with the U.S. Centers for Disease Control and Prevention.
"We have notified our employees and are in the process of contacting our customers to advise them of the situation," Toyota cited the dealer as saying in a statement. Representatives for the dealer and Toyota's U.S. sales subsidiary had no immediate comment about how many customers visited the showroom.
Ten patients in Washington have died from the coronavirus, including nine in King County, where Seattle is located.
First U.K. Death; Cases Rise to 115 (1:20 p.m.)
An elderly patient has become the first person in the U.K. to die from the coronavirus as health officials across the country brace for a potential period of mounting infections.
The patient, who had underlying medical conditions and was in treatment at the Royal Berkshire Hospital in Reading, is believed to have contracted the virus in the U.K., the government said in an email Thursday.
The fatality was reported on a day that the number of confirmed cases in the U.K. hit 115. As many as half of the U.K.'s total cases may emerge in a potential three-week episode that would put the National Health Service under "huge pressure," Chief Medical Adviser Chris Whitty told a parliamentary committee earlier Thursday. Overall, 95% of cases would likely occur over a nine-week period, he said.
Confirmed Cases in New York Double (1 p.m. NY)
Governor Andrew Cuomo said the number of cases identified in New York doubled since Wednesday after more people were tested.
After a significant number of tests overnight, 11 new patients emerged, Cuomo said, for a total of 22 in the state.
Eight new cases in Westchester County were tied to a hospitalized lawyer in New Rochelle who also spread the pathogen to his family. There were two cases in New York City and one in suburban Long Island, the governor said. Residents should remains calm in the face of rising numbers, he said.
"The number has to go up if you continue to test," Cuomo said. "I'm worried about undue fear and anxiety."
He said the real centers of concern should be nursing homes and senior-care facilities.
WHO May Name Countries Failing to Fight Virus (11:30 a.m. NY)
The head of the World Health Organization said the spread of the coronavirus could become a pandemic if countries don't fight it aggressively, and he threatened to name names.
"It's a long list," Director-General Tedros Adhanom Ghebreyesus said at a daily press briefing in Geneva Thursday. "It's a significant number of countries who are not mobilizing the whole government, and I can give you the list next time."
Health ministries alone can't fight the disease, and the top head of state or the second-in-command needs to lead the battle in order to fully mobilize governments. Tedros commended U.S. President Donald Trump's decision to name Vice President Mike Pence to head the nation's efforts as an example of what countries should do.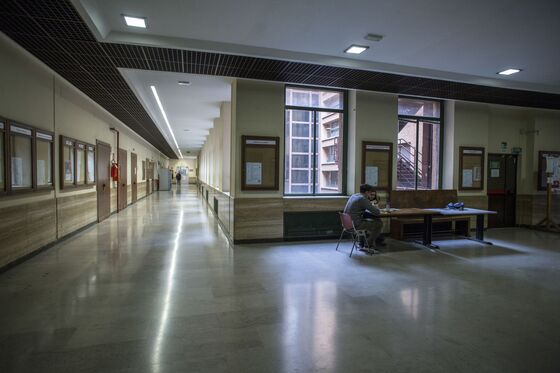 Amazon Recommends Employees Work From Home (11:55 a.m. NY)
Amazon.com Inc. said that all employees based in the Seattle/Bellevue area who work in a role that can be done from home should do so through the end of March, according to a company memo sent to employees late Wednesday.
Microsoft Corp. has also suggested the same for its area employees, through March 25.
N.J. Has First Case, in Fort Lee (10:15 a.m. NY)
A 32-year-old man from Fort Lee, New Jersey, has been confirmed with the coronavirus, the first in the state.
The patient is being treated at Hackensack University Medical Center, according to Fort Lee officials. It wasn't clear how the man contracted the virus. He is resting comfortably and doing well, the hospital said.
Fort Lee, across the George Washington Bridge from Manhattan, has almost 40,000 residents, many living in high rises along the Hudson River.
U.S. Won't Meet Test Rollout Goal, Senators Say (9:57 a.m. NY)
The Trump administration won't be able to meet its promised timeline of having a million coronavirus tests available by the end of the week, senators said after a briefing Thursday from health officials.
"There won't be a million people to get a test by the end of the week," Republican Senator Rick Scott of Florida said. "It's way smaller than that. And still, at this point, it's still through public health departments."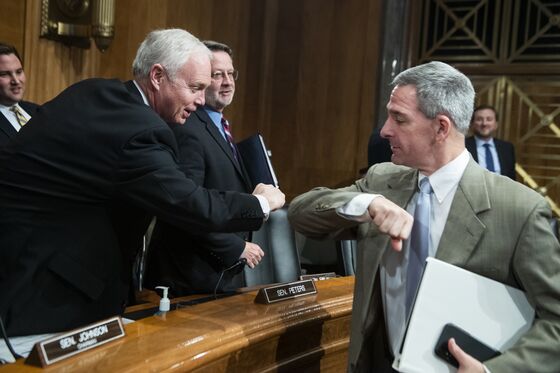 Cases Increase in France and Netherlands (9:49 a.m. NY)
France reported 92 new cases, bringing the total to 377. There have been two more fatalities, for a total of six, the health ministry said.
The Netherlands now has a tally of 82 confirmed cases, up from 38 yesterday, Dutch news agency ANP reported, citing Bruno Bruins, Minister for Medical Care.
U.K. Regulator Warns Companies Not to Raise Prices (9:45 a.m. NY)
The CMA, the U.K.'s competition regulator, said companies shouldn't raise prices or make misleading claims about products in the wake of the coronavirus outbreak.
"We will do whatever we can to act against rip-offs and misleading claims, using any or all of our tools; and where we can't act, we'll advise government on further steps they could take, if necessary," CMA Chairman Andrew Tyrie said in a statement.
Iran Rejects Offer for U.S. Humanitarian Aid (9:21 a.m. NY)
Brian Hook, U.S. special representative for Iran, told reporters in Paris that Iran rejected an offer of humanitarian aid from the U.S. to help deal with the coronavirus outbreak. Hook said the U.S. was concerned about the health of American detainees in Iran. He added that Iran had misled its people about the coronavirus.