China's Biggest Car Rental Firm Sinks 72% on Luckin Connection
(Bloomberg) -- Trading in shares of China's biggest car-rental company was suspended in Hong Kong after they tumbled as much as 72% amid concern over the firm's ties with Luckin Coffee Inc., which is facing an accounting probe.
Car Inc. last traded at HK$1.96, a slump of 54%, before the halt at 10:14 a.m. local time. Volume was more than 70 times greater than the 30-day average with less than an hour of trading. The firm's dollar bond due 2021 plummeted 31 cents to 44.8 cents on the dollar, the most ever, according to Bloomberg-compiled pricing.
The company was founded by Lu Zhengyao, the chairman of Luckin Coffee, which sank Thursday after saying its board is investigating reports that senior executives and employees fabricated transactions.
"Car Inc. investors are deeply concerned about the credibility of its financial reports," said Kenny Wen, wealth management strategist at Everbright Sun Hung Kai Co. "Now that Luckin has such a big integrity issue, people are worried that chairman Lu may have planted similar culture in Car Inc. The selling of its shares is a vote of mistrust on management."
Wang Tao, a Car Inc. spokesman, declined to comment.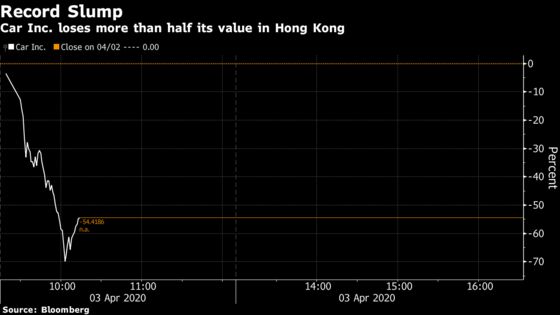 Luckin, a Chinese coffee chain, plunged as much as 81% in U.S. trading on Thursday. The company, a key competitor to Starbucks Corp. in China, said Chief Operating Officer Jian Liu and employees reporting to him engaged in misconduct. Liu and others have been suspended and investors shouldn't rely on previous financial statements for the nine months ended Sept. 30, the company said.
Chairman Lu and Chief Executive Officer Qian Zhiya employed a strategy at Luckin that they used with Car Inc. more than a decade ago: burning money from investors to quickly grab market share from rivals. Luckin started trading in the U.S. less than a year ago.
Car Inc. management told investors at a call this morning that Luckin and Car Inc. are two separate listed firms and are operationally independent, according to people who dialed into the call. The management also said it can repay a panda bond due April, as well as a $300 million dollar note due 2021. It aims to cut the size of its debt by 5 billion yuan ($706 million) to 6 billion yuan in 2020.
Two of Car Inc.'s yuan bonds are puttable in April, Bloomberg-compiled data show. Its 5.5% note due 2022 has 300 million yuan outstanding and its 6.3% note due 2021 has 730 million yuan.
Car Inc. was already struggling, before Friday's drop. Its shares were down 19% this year, while the firm's dollar notes were among the worst performers in an index of China high-yield bonds. Profit at Car Inc., which also sells used vehicles, fell 89% in 2019.