A Phone Call, a Trade Deal Hint And Asia Shares Go Shooting Up
(Bloomberg) -- It all started with a phone call. Then it only got better.
Friday began in the green for Asian stocks, thanks to news the leaders of the world's two largest economies talked, with U.S. President Donald Trump saying his Chinese counterpart wanted to make a deal to end an escalating trade war. Then the report that sent shares shooting up came out: Trump has asked U.S. officials to begin drafting potential agreement terms, according to people familiar with the matter.
The MSCI Asia Pacific Index surged as much as 2.5 percent, heading for its biggest jump in more than two years. And as the week comes to an end, there's no shortage of superlatives to describe this rally: best week since March 2016, first gain in six weeks and higher trading volume across the board.
Hong Kong shares led the surge on Friday, with the Hang Seng Index closing 4.2 percent higher. The Shanghai Composite Index gained for a fourth day, following this week's hints from the nation's leadership that additional stimulus measures may come soon.
Also helping: a senior administration official said the U.S. has agreed to let eight countries keep buying Iranian oil after it reimposes sanctions on the OPEC producer on Nov. 5. Those include Japan, India and South Korea.
Friday was a day that even Apple Inc.'s lackluster earnings results couldn't spoil. While some of the company's suppliers fell in early trading, tech companies in the MSCI Asia Pacific Index topped all other sectors Friday, rising as much as 3.8 percent.
There was also a myriad of other good news from the region:
Chinese President Xi Jinping held a forum with officials from some major domestic private companies and pledged a better environment for them. With promises of tax cuts and financial support for non-state owned firms, the ChiNext Index rallied 4.8 percent, dwarfing the Shanghai Composite's gain.
South Korea's Kospi index jumped the most in almost seven years as earnings from companies such as Daelim Industries and GS Retail beat expectations, a decline in the price of crude sent petrochemical makers soaring, and China's stimulus plan sent metal-related stocks higher.
Japan telcos rebounded after KDDI said it wouldn't follow NTT Docomo's mobile plan price cuts and confirmed reports it would tie-up with market newcomer Rakuten. The U.S.-China trade progress also lifted sentiment. The Nikkei 225 Stock Average more than erased Thursday's loss.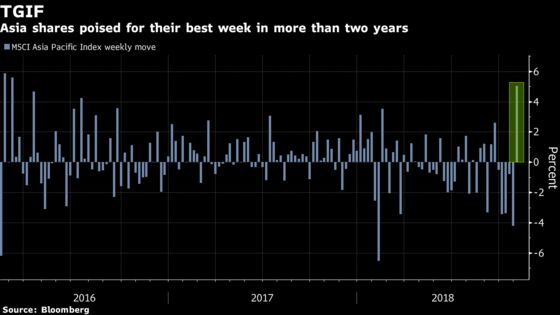 Malaysia's 2019 budget was released late Friday, and equity investors will be keeping a close eye. Last month, the nation's benchmark FTSE Bursa Malaysia Index plunged 3.7 percent in two days after Prime Minister Mahathir Mohamad said the government will devise new taxes soon to shore up a state budget that's been constrained by debt and changes to the consumption levy. On Friday, it climbed 0.4 percent.
Some other notable moves in the region:
Chiyoda Falls 41% in Three Days; SMBC Nikko Sees Cash Shortfall
CSR Drops Most in 3 Months as Building Product Earnings Decline
KDDI Jumps After Saying It Won't Cut Rates, Plans Rakuten Tie-Up
Nippon Sharyo Plunges to Daily Limit After Taiwan Train Report
Chinese Airline Stocks Surge on Stronger Yuan, Sliding Oil Price
The week isn't over yet. There's also the U.S. jobs report, the final one before next Tuesday's congressional elections, which may show that hiring improved and the unemployment rate held at a 48-year low.
Other important events coming up next week:
Nov. 5: Xi Jinping addresses on the country's first International Import Expo.
Nov. 6: the U.S. will vote in midterm elections to determine whether Republicans retain control of Congress and continue to implement Trump's agenda.
Nov. 6-7: Michael Bloomberg will host hundreds of world and business leaders at the New Economy Forum in Singapore.
Earnings include Toyota Motor, SoftBank, NTT, Westpac Banking, DBS, Nissan Motor, SingTel, Daikin Industries, Hong Kong Exchanges & Clearing, State Bank of India
Japan's Topix index up 1.6%; Nikkei 225 up 2.6%
Hong Kong's Hang Seng Index up 4.2%; Hang Seng China Enterprises up 4%; Shanghai Composite up 2.7%
Taiwan's Taiex index up 0.6%
South Korea's Kospi index up 3.5%; Kospi 200 up 3.7%
Australia's S&P/ASX 200 up 0.1%; New Zealand's S&P/NZX 50 little changed
India's S&P BSE Sensex Index up 1.8%; NSE Nifty 50 up 1.7%
Singapore's Straits Times Index up 1.9%; Malaysia's KLCI up 0.4%; Jakarta Composite up 1.2%; Thailand's SET up 1%; Vietnam's VN Index up 1.9%; the Philippines is closed for a holiday