U.S. Cases Rise 1.3%; Airlines Stymied by China: Virus Update
U.S. cases climbed 1.3% in a day, less than daily average of the past week, and deaths increased 1%. Long Island could reopen as soon as Wednesday as New York's new fatalities fell below 100.
Spain's new deaths slowed, and its football league games could resume next month. Italy's infections remained under 1,000 for the 11th day.
Jaguar Land Rover is seeking U.K. support as car sales collapse during the lockdown. The U.K. prime minister backed a top aide who defied the Covid-19 lockdown.
Subscribe to a daily update on the virus from Bloomberg's Prognosis team here. Click VRUS on the terminal for news and data on the coronavirus. For a look back at this week's top stories from QuickTake, click here.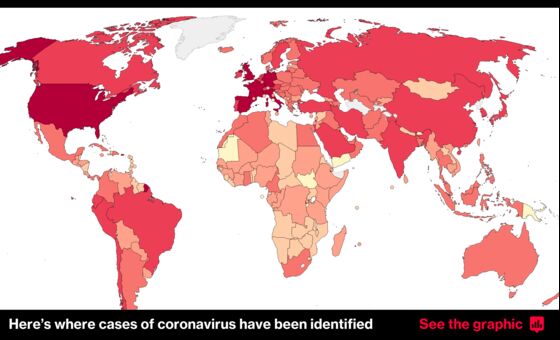 U.S. Takes on China Over Flights (5 p.m. NY)
The U.S. said China is blocking attempts by American carriers to resume flights after lockdowns disrupted global travel by failing to answer requests from Delta Air Lines Inc. and United Airlines Holdings Inc.
The DOT stopped short of restricting or penalizing the four Chinese airlines that serve U.S. markets, but it is a warning after repeated U.S. objections failed to get action, the government said.
China had set March 12 as the baseline for resumption of service. Because Delta, United and American Airlines Group Inc. had halted service to China by that date, it put them at an unfair disadvantage, the DOT said.
U.S. Cases Rose 1.3%, Below Weekly Average (4 p.m. NY)
U.S. cases increased 1.3% from the same time Friday to 1.61 million, according to data collected by Johns Hopkins University and Bloomberg News. The national increase was below the average daily increase of 1.5% over the past week. Three states have more than 100,000 cases each. Deaths rose 1% to 96,479.
New York reported 1,772 new cases, for a total of 359,926, and added 84 deaths, the lowest tally since March 24, bringing the total to 23,282, according to the state Department of Health.
New Jersey had 443 new cases, pushing the total to 153,104. Deaths rose by 96, for a total of 11,081, Governor Phil Murphy said.
Illinois added 2,352 cases, taking the total to 107,796, with 75 new deaths, for a fatality toll of 4,790, state public health officials reported.
California reported 2,187 new cases, bringing the total to 90,631, and added 78 deaths, with the fatality count at 3,708.
Pennsylvania added 725 cases, for a total of 66,983, with 112 new deaths, raising the total to 5,096, the health department reported.
Moment of Silence Urged for June 1 (3:10 p.m. NY)
A bipartisan group in the U.S. Senate proposed a moment of silence at noon June 1 to honor the almost 100,000 Americans who have died from the coronavirus.
"The human toll of the Covid emergency is tragic, and to get through it, we must stand together," Senator Jeanne Shaheen, a Vermont Democrat, said in a statement. Senate co-sponsors include Republicans Marsha Blackburn of Tennessee and Lisa Murkowski of Alaska and Democrats Elizabeth Warren of Massachusetts, Richard Blumenthal of Connecticut and Brian Schatz of Hawaii.
President Donald Trump ordered U.S. flags flown at half staff on government buildings this weekend for losses to the pandemic.
Jaguar in U.K. Talks for Aid (2:45 p.m. NY)
Jaguar Land Rover, the U.K.'s largest carmaker, is seeking a government aid package after car sales collapsed amid the pandemic, according to people familiar with the matter.
The auto manufacturer is in talks to borrow more than 1 billion pounds ($1.2 billion) through the U.K.'s emergency coronavirus lending program, the people said. JLR is also seeking tax breaks, research grants and other subsidies, which could bring the value of the support to more than 2 billion pounds, one of the people said.
The automaker said it's in "regular discussion with government on a whole range of matters," declining to provide specifics.
Roberts Urges Humility, Courage (2:20 p.m. NY)
U.S. Chief Justice John Roberts, in a video address to his son's high school graduation, said the pandemic "has pierced our illusion of certainty and control." He urged students to confront challenges with humility, compassion and courage.
"I think the pandemic is the world's way of saying to mankind, 'You're not in charge,'" Roberts said in a video recorded at the Supreme Court for graduates of Westminster School, a private boarding school in Simsbury, Connecticut, attended by his son Jack.
He touched briefly on how the outbreak affected the court, noting he'd been asked whether the justices wore their robes during telephone arguments -- dodging the question by saying he didn't know whether it referred to robes of the "judicial or bath" variety.
Spain Posts Fewer New Deaths (1:10 p.m. NY)
Spain reported 48 deaths in 24 hours, compared with 56 the previous day, according to Health Ministry data. Total fatalities are 28,678. Infections increased by 361 to 235,290.
France ICU Cases Decline (1 p.m. NY)
France reported 1,665 patients in intensive care, down from 1,701 on Friday. Hospitalizations fell to 17,178 from 17,383.
Johnson Backs Aide After Breach (12:30 p.m. NY)
Boris Johnson's chief adviser has the prime minister's "full support" even as he faces calls to resign after breaching lockdown rules.
Dominic Cummings traveled more than 250 miles (400 kilometers) from London in late March when he was supposed to self-isolate. Cummings went to Durham to seek help with childcare from family there because his wife had Covid-19 and he had symptoms, the prime minister's office said in a statement, defending the decision. U.K. citizens were ordered to stay home if they displayed symptoms.
"The prime minister knew that he was quite properly staying put in one place with his family, which is the right thing to do," Transport Secretary Grant Shapps said at the daily briefing. "The prime minister gives Mr. Cummings his full support."
Italy's Cases Rose a Bit (12:10 p.m. NY)
Italy's new cases rose slightly on Saturday, remaining below 1,000 for the 11th day. Authorities reported 669 cases, compared with 652 a day earlier. Daily fatalities fell to 119 from 130 on Friday; a total of 32,735 fatalities. Confirmed cases rose to 229,327
N.Y. Deaths Lowest Since Late March (11:47 a.m. NY)
New York reported 84 new deaths, the fewest since March 24, Governor Andrew Cuomo said at a press briefing held at his home in the executive mansion on Saturday. Hospitalizations continued to fall.
"It's a sign that we're making real progress," he said.
Cuomo said Long Island could reopen by Wednesday with the Mid-Hudson region between Albany and New York City to reopen on Tuesday. The city remains in under a stay-at-home order.
New York issued an order late Friday that allowed gatherings of 10 or fewer people, the biggest step yet to loosen rules that barred most non-essential gatherings.
Democrats to Scrutinize Trump Test Plan (11:10 a.m. NY)
Senate Democratic leader Chuck Schumer and Patty Murray, ranking member of the Health committee, vowed on Saturday to scrutinize the Trump administration's national testing strategy that's to be delivered on Sunday.
"When it comes to testing, they've failed the American people at nearly every turn," according to their statement. "The Trump administration has been erratic and more focused on cherry-picking facts to fit their narrative than executing a comprehensive plan to protect families and workers."
U.K. Reports Slowdown in Cases, Deaths (11:02 a.m. NY)
The U.K. reported 282 deaths, down from 351 on Friday. The number of cases rose by 2,959, also a decline from the previous day's 3,287. Total cases rose to more than 257,000 and fatalities to 36,675, the highest death toll after the U.S.
Trump Returns to His Golf Course (10:30 a.m. NY)
President Donald Trump headed to a golf course on Saturday for the first time in more than two months, as more states eased orders that forced many Americans to stay at home to combat the pandemic.
Trump was seen wearing a white polo shirt and signature white "MAGA" cap as he was leaving the White House. The president's most recent golf outing was March 8 at the Trump International course in West Palm Beach, Florida, where he played with members of the World Series champion Washington Nationals baseball team, according to images posted by players on social media. Trump played at the same course on March 7.
Deborah Birx, the immunologist who coordinates the White House coronavirus task force, mentioned golf as an activity Americans might safely enjoy this weekend during a news conference on Friday.
Portugal Reports 271 Cases (9:55 a.m. NY)
Portugal reported 271 new cases Saturday, mainly in the Lisbon and Tagus region, taking the total to 30,471, the government said. The daily total for new cases has remained in a range of 170 to 290 for the past 12 days. The total number of deaths rose by 13 to 1,302. The number of cases in intensive care units fell for a seventh day.
China Won't Return to Planned Economy (9:28 a.m. NY)
Chinese President Xi Jinping said he won't let the world's second-largest economy return to its days as a planned economy, pushing back against U.S. criticism that the nation has failed to deliver on promised reforms.
"We've come to the understanding that we should not ignore the blindness of the market, nor should we return to the old path of a planned economy," Xi told political advisers gathered in Beijing for their annual legislative sessions on Saturday, according to the official Xinhua news agency. He reiterated the government's stance that markets should play a "decisive role" in the economy.
Spanish Soccer to Resume in June (8:24 a.m. NY)
Spain's professional football league La Liga will be allowed to restart in June after a halt of more than two months, Prime Minister Pedro Sanchez said on Saturday. A possible date is June 12.
Germany's Bundesliga was the world's first major sports competition to emerge from the lockdown earlier this month by playing in empty stadiums.
Italy May Loosen Restrictions First in South (8 a.m. NY)
The next phase in Italy's relaxation of emergency measures may proceed at different speeds in various zones, with some northern areas temporarily excluded from a reopening of borders between regions, la Repubblica reported.
It may prove "difficult" for northern territories -- particularly the hard-hit Lombardy region around Milan -- to be allowed to open their borders on June 3 as planned, the newspaper reported, citing government views on the most recent figures from public health authorities.
Several German Church Members Infected (7:15 a.m. NY)
Members of a Baptist church in Frankfurt were infected with the coronavirus following a service there on May 10, DPA reported Saturday, citing the deputy chairman of the local congregation.
The majority of worshippers who have tested positive are at home and six are currently in the hospital, deputy chairman Wladimir Pritzkau said. The total number of positive cases is unknown. Germany has permitted religious services that observe hygienic and social distancing rules since May 1.
U.S. President Donald Trump demanded on Friday that states allow houses of worship to reopen.