Boeing Holds Out Hope on China as Shares Tumble on Trade Tension
(Bloomberg) -- Boeing Co., buffeted by sharpening trade tensions between the U.S. and China, is sticking with an upbeat view on its biggest overseas market even as it's "still trying to evaluate what's going on."
The planemaker remains "optimistic that it will work out between the governments in the long run," said Richard Hammond, vice president at Boeing Capital, a financing arm of the largest U.S. exporter.
Boeing fell the most on the Dow Jones Industrial Average as the Trump administration's tit-for-tat with China worsened with the arrest in Canada on Wednesday of Huawei Technologies Co.'s chief financial officer over potential violations of U.S. sanctions on Iran.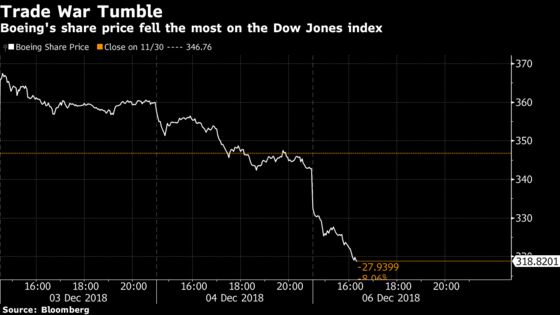 China is Boeing's biggest overseas market. While demand has slowed, the company has "not yet" seen an impact on Chinese sales and lease-backs, Hammond said at a media briefing in London Thursday. Boeing expects "robust demand in that region for quite some time."
As executives study the situation, "we're working with our government and their government to provide whatever help we can," he said.
Boeing fell 6 percent to $322.09 at 12:09 p.m. in New York, after earlier falling as much as 7.3 percent. The Dow Jones fell 2.3 percent.