Biden Revamp of Trump's China Blacklist Leaves Room for Dialogue
(Bloomberg) -- U.S. President Joe Biden's "intentionally targeted" revamp of Donald Trump's order to ban investments in certain Chinese companies allows him to maintain a tough line on China in a way that still provides room for dialogue between the world's biggest economies.
The amended order signed Thursday by Biden named 59 firms involved in China's defense and surveillance technology sectors, 15 more than were previously named on a Pentagon list of Chinese-military controlled companies that served as the basis for Trump's ban. Unlike the previous order, however, it doesn't affect the many subsidiaries of those firms.
The order "allows the United States to prohibit -- in a targeted and scoped manner -- U.S. investments in Chinese companies that undermine the security or democratic values of the United States and our allies," the White House said in a statement. China stocks rallied on Friday afternoon, while shares of firms that Biden added to the list were mixed in early trading.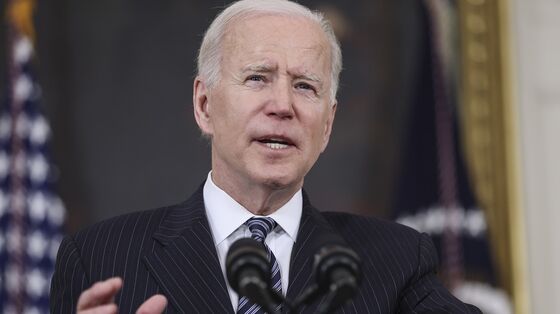 The limited implementation of the broadly worded order shows that U.S.-China relations are beginning to level out after a year that saw a barrage of sanctions on Communist Party officials, restrictions on high-tech U.S. exports and punitive measures on Chinese firms. While Biden isn't turning back the clock to a pre-Trump era, the approach offers a way for leaders in Washington and Beijing to continue conversations that have recently become more frequent.
Treasury Secretary Janet Yellen, who will be tasked with coming up with the list, this week held her first call with Vice Premier Liu He, a top Chinese economic official who also recently held discussions with U.S. Trade Representative Katherine Tai. The Chinese Commerce Ministry on Thursday called the meetings "professional, candid and constructive," while the Communist Party's Global Times called said they amounted to "the full recovery of communications between senior Chinese and U.S. economic officials."
"This is by no means a restoration of normal exchanges between two governments, but the situation is much better than in Anchorage," said Shi Yinhong, director of Renmin University's Center on American Studies in Beijing, referring to a public spat in a meeting of top diplomats from both sides back in March.
"Liu's calls should not be read as a sign that the economic ties are improving -- further deterioration is possible," Shi added. "But talk is definitely better than no talk."
Chinese Foreign Ministry spokesman Wang Wenbin on Friday called on the U.S. to rescind the blacklist while also leaving the door open to more dialogue.
"As to the problems in our economic relations and trade, we always maintain and hold that we should resolve them in the spirit of mutual respect and equal negotiation," he said. "The nature of China-U.S. economic and trade cooperation is mutually beneficial and win-win. We have widespread common interests."
Biden's move to revamp the blacklist came ahead of a June 11 deadline for new U.S. investments in Chinese companies identified under Trump's executive order in November 2020. Two companies -- Xiaomi Corp. and Luokung Technology Corp. -- successfully challenged the order in court, adding further impetus for Biden to overhaul the policy. Neither was included in the revamped ban, which takes effect on Aug. 2. Investors will have a year to fully divest.
Biden avoided an expansive definition of surveillance that could've encompassed virtually every major technology player, since they are obligated by law to censor and share data as requested by the party. For example, Tencent Holdings Ltd. -- the most valuable company in China -- operates the ubiquitous WeChat messaging service, which authorities use in police investigations and other formal inquiries.
The order amounts to a "mixed message" as Beijing looks to continue dialogue with the U.S., Wang Huiyao, an adviser to China's cabinet and founder of the Center for China and Globalization, told Bloomberg Television on Friday.
"The international global economy is not out of woods," he said. "We need big countries like China and the U.S. to work together to really carry us out."
President Xi Jinping's government has already started preparing for the worst, outlining plans to invest heavily in chip production to become self-sufficient in modern technologies even as he rails against those pushing for economic decoupling. U.S. investment banks like Goldman Sachs Group Inc. and JPMorgan Chase & Co. are among foreign financial services companies expanding in China after it began allowing full ownership last year.
The Biden order suggests he will build stronger barriers in certain core technology while narrowing the scope of targets, according to Li Wei, professor at Renmin University's School of International Studies.
"The Biden administration is implementing the 'small yard, high wall' strategy," said Li, who writes about U.S.-China strategic competition. "The future technology competition between China and the United States will become increasingly fierce."