Best-Performing China Distiller Sells 'Firewater' for Pennies
(Bloomberg) -- The best-performing Chinese distiller in the domestic stock market is a Beijing-based company that sells cheap, tongue-torching hard liquor for as little as $0.6 a bottle.
Beijing Shunxin Agriculture Co. -- which derives more than half of its revenue from the production and sale of the fiery spirit known as baijiu -- is trading at a more than 40 percent premium to its domestic rivals. As the firm shifts its focus to baijiu further away from pork and real estate to capture booming domestic consumer demand, bulls say the stock still holds long-term upside potential even though it has more than doubled this year.
In a note to clients on Wednesday, China International Capital Corp. analysts said Shunxin has become a high-growth baijiu enterprise as it makes efforts to market its core product -- Niulanshan Erguotou -- outside of its home turf of Beijing and other parts of northern China. CICC advises investors to "take a strategic, heavy position" in the stock.
The bullish view is echoed by other industry analysts, including Zhongtai Securities Co.'s Jinsong Fan, who said in a note this month that Shunxin's baijiu business remains undervalued as it has just 5 percent of the domestic low-end liquor market and its liquor sales are expected to soar to 10 billion yuan ($1.5 billion) by 2019 from 6.45 billion yuan in 2017. All nine of the analysts following Shunxin have a buy rating on the stock, according to data compiled by Bloomberg.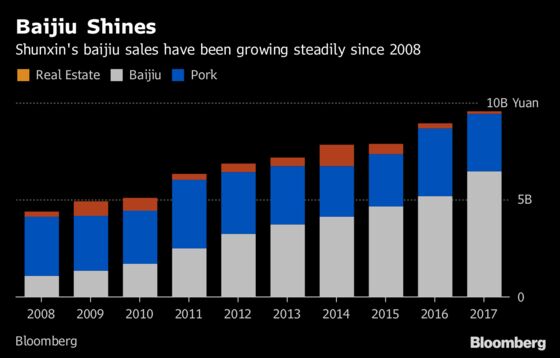 Shunxin is among 15 major listed Chinese distillers that have significantly outperformed the A-share market over the past year due to their exposure to China's burgeoning middle class and resilience to external turbulence caused by the China-U.S. trade dispute. Major domestic distillers saw their profits grow 36 percent to 102.8 billion yuan last year on the back of a 14 percent advance in revenue, according to Xinhua news agency, which cited official data.
Kweichow Moutai Co., the world's largest distiller by market value, and fellow liquor maker Wuliangye Yibin Co. are a focus of international investor demand this year, with foreign holdings of the stocks near at least 15-month highs.
Shunxin shares rose 0.8 percent on Monday, taking the gain this year to 134 percent, the top performer among 15 major Chinese distillers. The company, which expects its first half net profit to grow 70-100 percent on year on higher income from baijiu business, is trading at 40 times forecast earnings for 2018, compared to an average of 28 times for the 15 distillers.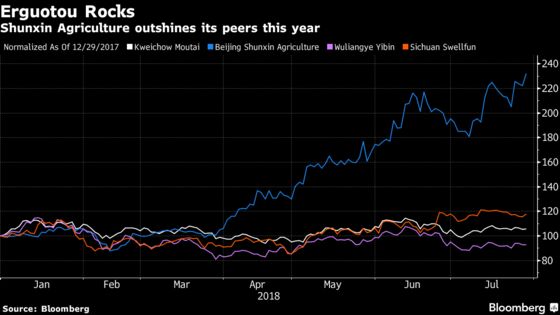 To be sure, some analysts have warned that Chinese distillers might find it increasingly hard to adapt to the changing tastes of a younger generation of drinkers.
Shunxin, whose baijiu is distilled from sorghum and has an alcohol content of more than 50 percent for many of its products, also faces stiff competition from the legions of local rivals and is less profitable than premium liquor makers. The gross margin of Shunxin's baijiu business stood at 55 percent in 2017, below 88.5 percent for Moutai and 68.5 percent for Wuliangye.
Nevertheless, analysts including SWS Research Co. analyst Chang Lv remain bullish on the future of Shunxin's liquor division. Lv reckons the baijiu business should be valued at 30 billion yuan alone, more than 18 percent higher than Shunxin's current market capitalization.