China's Biggest Banks Post Higher Profits Amid Fresh Loan Push
China's biggest banks are seeing bad loans grow at the fastest pace since at least 2017, as the country's economic slowdown leaves its mark on the financial sector.
The nation's four largest lenders said in recent days that non-performing loans hit fresh multi-year highs in the latest quarter, reflecting risks to China's banks as the government pushes them to lend more.
The increase in delinquent debt may give policy makers pause even though bad loans as a share of total lending fell slightly, thanks to expanded balance sheets. While China's banks are seen as key to reinvigorating the economy, especially by lending to traditionally riskier smaller and private companies, some have expressed concerns that soured loans could continue to rise.
"Pressure to lend to small and micro-enterprises may gradually start to appear in bank's NPLs," said Shujin Chen, chief financial analyst at Huatai Securities Co. in Hong Kong. Weaker economic conditions will also impact bad loans though as a share of total lending it may remain little changed, she said.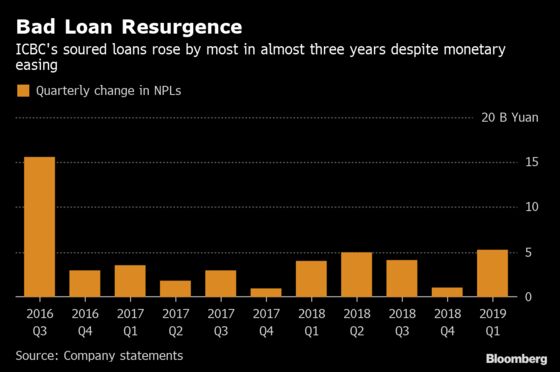 About 45 percent of 202 bankers surveyed by China Orient Asset Management Co., one of four state-owned bad-debt managers, expect the nation's bad-loan ratio to peak next year, according to the annual survey published in April.
Industrial & Commercial Bank of China Ltd. reported a 5.2 billion yuan ($770 million) rise in non-performing loans in the first three months, the biggest quarterly increase in almost three years. Bank of China Ltd. saw its bad loans rise by 6.1 billion yuan -- the most in three years -- to the highest level since at least 2006. At Agricultural Bank of China Ltd., bad debt rose by 2.7 billion yuan, or the biggest increase since the first quarter of 2017. China Construction Bank Corp.'s soured credit increased by 6.6 billion yuan, the most since 2016.
ICBC's profit rose 4.1 percent from a year earlier to 82 billion yuan, while net interest income rose 8.2 percent to 148 billion yuan
CCB's profit rose 4.2 percent to 76.9 billion yuan; NII up 4.5 percent to 125.1 billion yuan
BoC's profit rose 4 percent to 51 billion yuan and NII rose 6.6 percent to 89.4 billion yuan
Bank of Communication Co.'s profit rose 4.9 percent to 21.1 billion yuan; NII rose 19 percent to 34.9 billion yuan
Despite concerns around bad loans, total earnings at the five biggest lenders, which control more than a third of China's banking assets, are this year estimated to grow at the fastest pace in five years.
"Banking stocks are likely to deliver both absolute and relative returns in the phase of monetary and credit easing," China International Capital Corp. analysts led by Victor Wang said in an April 22 note to clients.
What Bloomberg Intelligence Says
ICBC and BoCom loan provisions could offset mild revenue gains, restricting earnings growth to mid-single digits in 2019
CCB may need to raise credit costs later this year
BoC earnings may get a short-term boost from robust sector loan growth, yet with full-year profit gains staying in the mid-single digits

-- Francis Chan, Asia banking analyst
Investors don't share the enthusiasm, however. Shares of China-listed banks have gained an average 19 percent this year, underperforming the 23 percent increase in the benchmark Shanghai Composite Index. Among their concerns: increased lending to smaller businesses may hurt their asset quality and profitability in the longer term, and some analysts predict a turn in monetary policy to avoid over-stimulating the economy.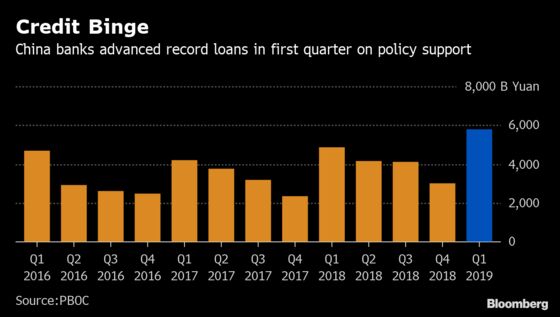 Banks advanced 5.8 trillion yuan of new loans in the first quarter, almost a fifth more than the same period a year ago, official data show. China's Politburo said earlier this month that the economy was better than expected in the first quarter, fueling concern that the government will dial back economic support measures.