Bank of America Joins in on Yuan-Forecast Cuts Amid Trade War
(Bloomberg) -- Bank of America Merrill Lynch is the latest bank to downgrade its forecasts for China's exchange rate, days after JPMorgan Chase & Co. similarly concluded that an escalating trade war with the U.S. was likely to feed through to a weaker yuan.
"Near-term damage to China growth is already evident" and will hit the economy into the first quarter of 2019, BofAML strategists including Claudio Piron in Singapore wrote in an Oct. 2 note. "Given this, and the prospect of higher U.S. interest rates, Beijing will likely allow and lean on yuan weakness as a crutch for economic support."
The bank now sees the yuan at 7.05 per dollar in the first quarter of 2019, versus 6.90 before.
It now projects the yuan at 7.10 in the second quarter, against 6.85 before.
Other Asian currencies were also downgraded, with Indonesia's rupiah seen dropping more than 5 percent to 15,800 per dollar by the second quarter.
India's rupee is seen dropping almost 3 percent to 75 per dollar.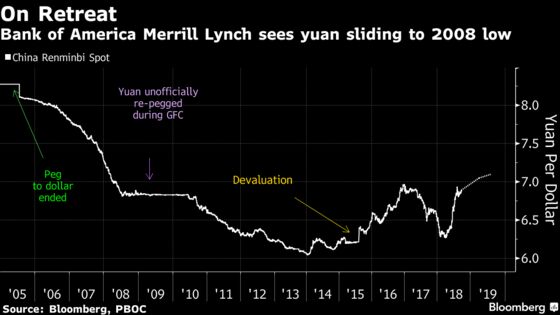 The team's new forecast indicates a 2.5 percent drop in the yuan by next quarter, after the currency closed at 6.8725 in onshore trading last week.