Asian Junk Debt's Weak Fundamentals Harder to Ignore After Virus
(Bloomberg) -- Now that money managers are giving Asian junk bonds more scrutiny after a sell-off on the coronavirus concerns, they may not like what they see.
Some important fundamentals for the sector, it turns out, had been weakening for some time before the epidemic.
You wouldn't have known that from the way the notes had been trading until just a few weeks ago. But there were signs late last year, as economic growth outlooks worsened, inflation rose in places and central banks in emerging markets eased less aggressively.
The upgrade-to-downgrade ratio for Asian high-yield issuers slumped in the fourth quarter, contrasting with an increase for investment-grade borrowers. The outbreak of the deadly new virus that started in China is likely to put further pressure on borrowers by affecting business operations and short-term cash flows.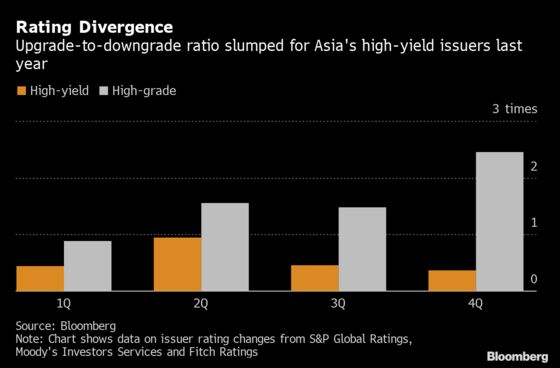 The riskiest assets in Asian credit markets have already been hit hard by those concerns.
Despite some improvement in the past few days, the extra yield that investors demand to hold dollar-denominated junk notes from the region over investment-grade securities has jumped to more than 350 basis points, with high-yield Chinese property bonds accounting for a big part of that move. That's up from just 310 basis points in mid-January.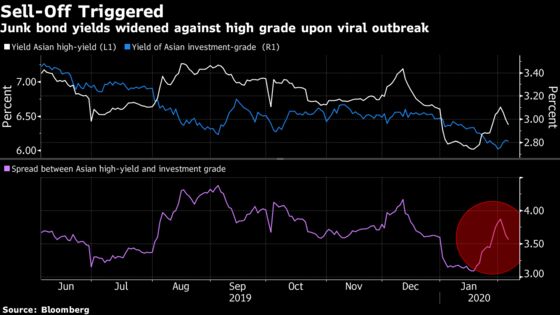 China's high-yield bonds are heavily represented within the index, comprising four out of the top five constituents of the Bloomberg Barclays Asia USD high yield index, of which, the heaviest property weighting is from China Evergrande Group.
| Top Bond Issuers as of Feb. 6 | Index weight (%) |
| --- | --- |
| China Evergrande Group | 4.1% |
| Sri Lankan Government | 4.0% |
| Kaisa Group Holdings Ltd. | 3.9% |
| Tianji Holding Ltd. | 2.8% |
| Sunac China Holdings Ltd. | 2.7% |
The risk of the coronavirus spreading further could hurt developers' contracted sales elsewhere, which are already weak given Lunar New Year is traditionally a low season, according to Hong Kong-based Bloomberg Intelligence analysts Patrick Wong and Kristy Hung.
Some see less grounds for a bearish stance on Chinese high-yield debt. The government's desire to maintain stability amid the outbreak may result in the pace of defaults slowing, according to a recent Goldman Sachs Group Inc.'s credit report.
The macro picture throughout Asia, though, is not without challenges. China's first quarter economic growth may dip to 4.5%, according to Bloomberg Economics's Chang Shu.
India's economy has also been slowing and the creditworthiness of companies there has deteriorated to the lowest in eight years