Asia Stock Confidence in Trade Truce Has a Number: $325 Billion
(Bloomberg) -- Just how much is this 90-day truce worth in Asian stock markets? Roughly $325 billion, on Monday at least.
That's how much market value got added to companies in the MSCI Asia Pacific Index as the gauge rallied 2 percent. Asia stock bulls couldn't have asked for a better start to December. The Shanghai Composite Index and Hang Seng Index both soared about 2.6 percent each, and the Topix closed 1.3 percent higher. Early action in the yuan also pointed to an optimistic response from investors.
In fact, the last time the Asian benchmark reached a jump like this was a month ago, on news that the leaders of the world's two largest economies talked, with Donald Trump saying Xi Jinping wanted to make a deal to end the escalating trade war.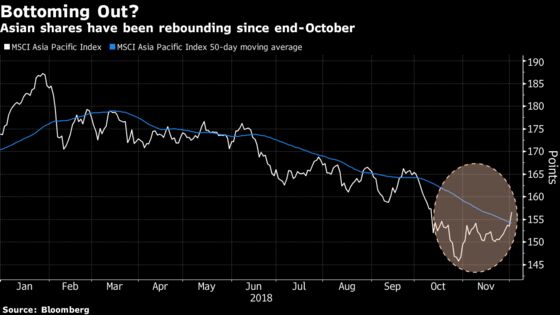 Fast forward to Monday, and it looks like all's well with global markets again after the U.S. agreed to postpone a planned tariff hike on Chinese goods for three months and China said it will boost purchases of farm and industrial goods to reduce the trade imbalance. Trump also said China has agreed to "reduce and remove" U.S. car import charges, while China's foreign ministry spokesman Geng Shuang declined to comment on any vehicle tariff changes. Futures contracts on the S&P 500 Index jumped 1.9 percent in the first minutes of trading and have stayed higher.
With a plethora of big-picture stories available, here's a "look under the hood" for all the individual stock and sector moves benefiting from the trade truce:
With China bearing the brunt of the sell-off amid the trade war, click here for a list of the biggest equity winners from the trade thaw: tech stocks (including ZTE Corp.), shipping and transport, auto parts and consumer products.
Shares of auto dealerships advanced in China and Hong Kong after Trump said China has agreed to "reduce and remove" tariffs on American cars from 40 percent currently.
Morgan Stanley upgraded its already-positive forecast for China's stocks next year.
Over in Japan, a gauge of automakers on the Topix rallied.
Staying in North Asia, infrastructure stocks in South Korea surged after Trump said he expects to hold a second summit with Kim Jong Un.
In Southeast Asia, Indonesian miners stood out as the agreement between China and the U.S. may help support global economic growth and demand for commodities.
Last but certainly not least, Apple Inc.'s Asian suppliers also jumped.
So, will investors see a solid rebound with four weeks left to the year? The jury's still out.
To some market players, including CMC Markets Singapore analyst Margaret Yang Yan, this temporary cease-fire could set up the year-end rally, given that emerging markets have been suppressed most of this year. UBS Group AG strategists led by Niall Macleod say China and Korea have the "greatest potential" to re-rate as these two countries previously have been discounted too much on bad news ranging from trade tension to economic growth.
But others are staying cautious. In an interview with Bloomberg Television, Mark Tinker, head of Framlington Equities Asia at AXA Investment Managers in Hong Kong, said while some short covering is possible in the near term, he's still cautious to call a Santa rally as the trade war wasn't the only thing on investors' minds this year and the truce is more like the "removal of negatives rather than a huge positive." He pointed to the U.S. dollar as a key factor to whether investors will rush back into the market.
Apart from the agreement between the U.S. and China, here are some other important events happened over the weekend and during early Monday trading:
Oil rebounded from the biggest monthly loss in a decade after Russia and Saudi Arabia agreed to extend their deal to manage the market into 2019. Canada joined the drive to cut oil production as Alberta seeks to ease the glut crisis.
Macau gaming revenue growth topped analysts' estimates in November, as casino operators regained some momentum following months of weakness tied to China's economic slowdown. Casino shares rallied.
In Southeast Asia, the Philippine stock market had a delayed trading open due to some technical issues. That hasn't stopped the nation's benchmark gauge from jumping more than 2 percent.
The place where stocks didn't rally on Monday was Pakistan: its benchmark Karachi 100 Index sank as much as 3.5 percent after the central bank raised its key rate by more than what most economists had forecast and devalued its currency for a fifth time this year.
Japan's Topix index up 1.3%; Nikkei 225 up 1%
Hong Kong's Hang Seng Index up 2.5%; Hang Seng China Enterprises up 2.5%; Shanghai Composite up 2.6%
Taiwan's Taiex index up 2.5%
South Korea's Kospi index up 1.7%; Kospi 200 up 1.8%
Australia's S&P/ASX 200 up 1.8%; New Zealand's S&P/NZX 50 up 0.6%
India's S&P BSE Sensex Index up 0.1%; NSE Nifty 50 up 0.1%
Singapore's Straits Times Index up 2.3%; Malaysia's KLCI up 1.1%; Philippine Stock Exchange up 2.2%; Jakarta Composite up 1.4%; Thailand's SET up 1.9%; Vietnam's VN Index up 2.7%