Asia Bulls Are Unbowed With Stock Signal on Economy Seen Shaky
(Bloomberg) -- Viewing every equity rupture as a sign of economic apocalypse would've lost you money in 2015 and 2016. Traders coping with the worst year for Asian stocks in seven see no reason that won't be true again.
It's probably too late to bail anyway, with equities down 20 percent since January. But from Hong Kong to Australia, Japan to Singapore, bulls say they're steadfast, convinced the 2018 bear market is just one more thing they must navigate if they expect to end up ahead.
Take Shane Oliver, head of investment strategy at AMP Capital Investors Ltd. in Sydney. He's aware of the reasons stocks are falling -- rising interest rates, concern over the U.S.-China trade war, and the risk of a funding crisis in emerging markets as the dollar climbs. But nothing he's seen suggests a global recession is in the offing.
"Sometimes share slumps warn of pending economic slumps, but much of the time they reflect investors jumping at shadows," Oliver said. "As the U.S. economist Paul Samuelson once said, 'The stock market forecast nine out of the last five recessions."'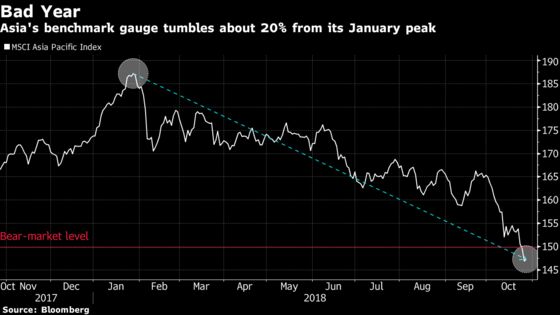 Stock slumps have a mixed record foretelling economic woe, though they may be better than economists. Among all the 20 percent drops that have hit American stocks since the Great Depression, 10 preceded recessions and only four recessions occurred without a bear market warning, according to data compiled by Bloomberg.
That's too many misses to send Andrew Gillan, the head of Asia ex-Japan equities at Janus Henderson Investors (Singapore), out the door.
"This is a great opportunity for long-term investors to pick up cheaper companies," he said. Stocks are trading on short-term sentiment, according to Gillan, and Asia is just following the U.S. lead. "The stock market is worried about the trade wars, rising U.S. interest rates and the strong dollar –- all legitimate concerns -- but I would argue that these are well priced into Asian markets."
That didn't look the case on Thursday, when a broad sell-off struck. Japan's Nikkei 225 Stock Average sank more than 3 percent, markets from Hong Kong to Shanghai and South Korea also tumbled, while the MSCI Asia Pacific Index extended its loss from a January high to more than 20 percent.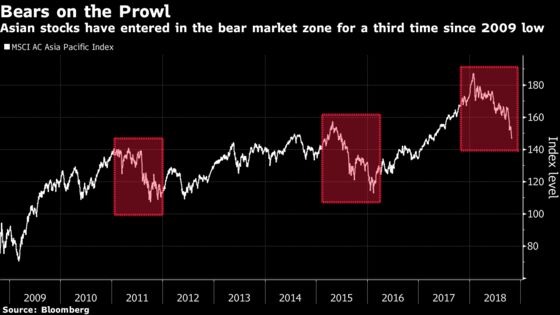 Some investors take the view that the market is following, not leading, when it comes to warnings. The real alarm bells, they say, are coming from chief executive officers this quarterly reporting season.
Third-quarter "earnings calls so far have been characterized by a notably more bearish tone from management than we have seen for some time," said Ross Cameron, head of the Japan office at Northcape Capital Ltd. "This is particularly noticeable in comments around China."
Hiroshi Matsumoto, head of Japan investment at Pictet Asset Management Ltd., agreed. "What we're hearing from CEOs is uncertainty and words of caution," he said. "That message is rippling through the markets and being factored in."
But both men, like Oliver, are mostly unperturbed.
Cameron of Northcape accepts that it hurts when prognosticators repeatedly recommend buying and the market keeps going down. "I still believe that there will be some great bargains," he says.
Matsumoto had a similar line of thinking. "The market could be in the process of discounting not just a normal slowdown but a severe recession, like the one seen during the Lehman crisis," he said. But "I personally don't think things will get that bad."
"The market is rebalancing rather than giving recession warnings," said Marc Tan, a research analyst at KGI Securities Pte. "Look at 10-year yields. They are catching people by surprise," he said. "Investors may start moving more money to debt from equities."
Not everybody agrees that the market's warnings can be easily dismissed. Stephen Innes, head of trading for Asia-Pacific at Oanda Corp., sees reason for concern in everything from the political situation in Italy to the crisis over the killing of Saudi Arabian journalist Jamal Khashoggi.
"It's time to wake up and smell the coffee," Innes said. "With so many cross-currents swirling, Italy and Saudi fears when combined with U.S. domestic concerns over what has suddenly become a collapse in housing-related assets have made for a toxic combination, sending equity investors packing," he said. "Frankly, risk aversion feels like it has much further to run."