As Fidelity Dives Into China Bonds, JPMorgan Asset Hesitates
(Bloomberg) -- China's bond market is dividing two titans of the finance industry. Fidelity International likes the diversification it offers, but for JPMorgan Asset Management there remain too many questions to pile in at this point.
Chinese policy makers' moves to make it easier for foreign investors to invest has put a spotlight on international fund managers' appetites to jump into the world's third-biggest bond market. Its government bonds are on course to be added to global indexes, though not everyone is yet convinced, as shown in the interviews with managers at the two firms -- which manage a total of more than $4 trillion globally.
"China's monetary policy" and "its onshore bonds are not correlated to what U.S. or Australian government bonds do,'' said Bryan Collins, the head of Asian fixed income at Fidelity International in Hong Kong. "I can diversify the risks within in my portfolio."
Yields on 10-year Chinese government bonds dropped to just above 3 percent, from about 4 percent early last year, as China's central bank shifted toward stimulus amid an economic slowdown. By contrast, yields in the U.S. climbed for much of 2018 as the Federal Reserve kept tightening, though the dovish pivot there has seen Treasury rates retreat more recently.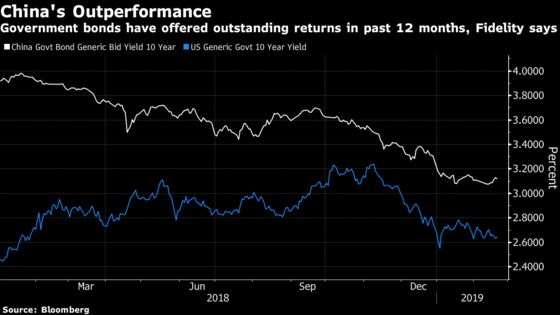 JPMorgan Asset Management is siding with those such as Mellon who are treading more carefully. Bob Michele, its chief investment officer for global fixed income, cites issues with regard to risk management and trading practices. He highlighted uncertainty about which specific bonds will be included in the new indexes, and how the People's Bank of China will be involved in the market.
Another concern is liquidity, Michele said. Chinese government bonds see much less turnover than Treasuries, or even South Korean debt, Goldman Sachs Group Inc. analysis has shown.
"I can't say I'm committed one way or another, but for sure everybody's got to start putting them into their process and looking at them," Michele said in a recent interview in Sydney. "In terms of suggesting that this is a cheap area and we are going overweight in our portfolios -- no."
Bloomberg LP said Chinese local-currency bonds will be added to the Bloomberg Barclays Global Aggregate Index on a phased-in basis from April. Bloomberg LP is also the parent of Bloomberg News. Market participants expect other large index providers to follow suit in time.
For Fidelity's Collins, the easing bias on policy in China will help stabilize growth and support bond prices. Fidelity is keeping "a long bias" for Chinese sovereign debt, he said.
Fidelity has been investing in the domestic market through the Qualified Foreign Institutional Investors program, the China Interbank Bond Market, and earlier this year through Bond Connect, Collins said.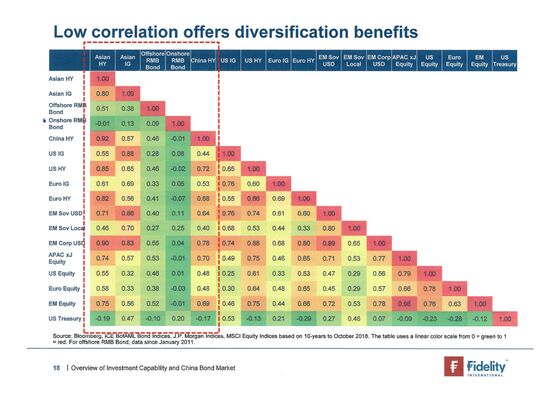 "Chinese government bonds have, and are likely to continue to have, a slightly higher yield than what you would have in other markets and historically have had higher risk-adjusted returns,'' said Collins, who oversees Fidelity's China RMB Bond Fund, which beat 90 percent of its peers over the past year.