As Demand Stagnates, China LED Lighting Giant Feels the Heat
(Bloomberg) -- The future is looking less rosy for Sanan Optoelectronics Co., China's largest LED lighting manufacturer, at least for now.
Driven by concern about weakening demand for light-emitting diodes from the domestic property and automotive sectors, Sanan's Shanghai-listed stock has lost more than half of its value in the past 12 months and seen its valuation decline to record lows. Investors were recently spooked by a social media report questioning the financial dealing of its controlling shareholder, prompting Sanan to issue statements to dismiss the concerns.
"China's LED industry is unlikely to recover over the next two years because of overcapacity and stagnant demand," said Hiroki Lu, fund manager at SinoPac Securities Investment Trust in Taipei. Concern about the finance of the company's parent following the social media report is also pushing him to steer clear of the stock, he added.
In response to Bloomberg News' query on the social media report, Sanan said in an email on Thursday that its operations are "completely separate" from that of its controlling shareholder. It also reiterated the statement it released last week about a framework agreement its main shareholder signed earlier this month to obtain 6 billion yuan ($887 billion) in strategic investment and working capital from new investors.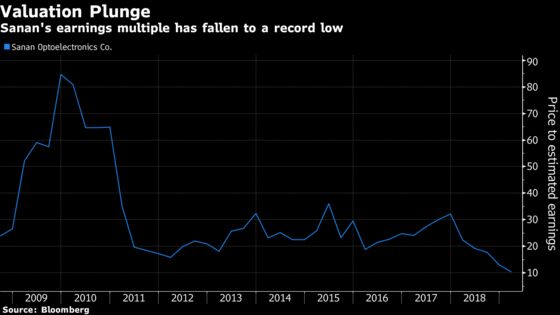 Sanan is one of many companies benefiting from China's moves to boost investment in LEDs -- semiconductors that convert electricity directly into light -- to promote green energy. The technology is much more energy efficient than traditional incandescent lamps.
LEDs accounted for 70 percent of China's general lighting market in 2018, according to a recent report by China Solid State Lighting Alliance (CSA). That mirrored a broader trend in which LED lighting has gone from less than 5 percent of the global lighting market to more than 40 percent in the past six years.
Sanan, which makes wafers for LEDs, has seen explosive growth in revenue and profits since its listing in 2008. It made international headlines in 2016 when it said it held talks with Germany's Osram Licht AG about a possible acquisition.
Sanan's share price peaked at the end of 2017 just as China's LED industry started to cool. Slowing demand from domestic property, automotive and consumer electronics sectors coincided with a large amount of new production capacity coming online last year, CSA said.
Total output value of China's LED sector grew 12.8 percent in 2018, down 12.5 percentage points from the previous year, CSA said in its report, citing increasing costs and inventories as well as sliding demand and government subsidies. The report also warned that if the U.S. implements punitive tariffs on China's LEDs, the industry is set to suffer as it relies on exports for half of its sales.
China Trade and Investment Headwinds Seen in Details of GDP Data
Not everyone is entirely bearish on Sanan, one of more than 30 Chinese LED manufacturers listed in mainland China. Citi analysts including William Yang said in a report dated Jan. 16 that Sanan, as an industry leader, is expected to gain market share over time. According to CSA, Sanan's domestic market share is likely to expand to 31 percent by 2020 from 28 percent last year.
Citi still halved its price target for Sanan's shares to 12 yuan earlier this month, citing slowing demand and profit growth this year. Shares of Sanan, with a market value of $6.2 billion, closed at 10.27 yuan on Friday.
Sanan is expected to post 10.8 percent growth in its 2018 earnings per shares, lower than an increase of 47 percent the previous year, according to the average forecast of 11 analysts tracked by Bloomberg.
In client notes late last year, analysts at Morgan Stanley and China International Capital Corp. expressed concern about Sanan's inventories. According to Bloomberg data, Sanan's inventory days -- a measure of how many times a company's inventory is sold and replaced over a period -- climbed to nearly 160 days in the third quarter of 2018 from 100 days a year earlier.
Sanan said in an emailed reply to Bloomberg News that the inventory increase was the result of production capacity expansion in recent years that is aimed at meeting increasing demand.
Sanan's "valuation is already pretty low now, but there are still various concerns about the company over the short term," said Zhu Jixiang, analyst with Capital Securities Corp., adding that it remains unclear when the LED industry will bottom out.