Another China Firm Joins Growing List Queried on Financials
(Bloomberg) -- A Chinese display product maker has been questioned by the Shenzhen Stock Exchange on its cash usage, joining a growing list of firms whose financials are being scrutinized by the nation's regulators.
Beijing-based Tunghsu Optoelectronic Technology Co. was asked by the bourse to explain the rationale in paying high expenses on its debts when it reported ample cash in 2018, according to a statement on Wednesday. The company was also required to spell out the reasons for issuing convertible bonds when it reported 19.8 billion yuan ($2.9 billion) cash as of end-2018.
China's companies are coming under greater scrutiny by regulators on their accounting, putting a spotlight on disclosure practices in a country where companies are defaulting at a record pace. This is also a sore spot for China's stock and bond markets at a time when they are opening to foreign investors at an unprecedented pace.
Related stories:
A $4.4 Billion Accounting Error Burns Investors in China
Latest China Default Puts Spotlight on Financial Reporting
China Developer Faces Funding Test as Unit Questioned
Kangmei Pharmaceutical Co., one of China's largest listed drugmakers, said it overstated cash holdings by $4.4 billion in April, while Kangde Xin Composite Material Group Co. defaulted on a bond in January after reporting cash levels just four months earlier that were enough to pay the debt 15 times over. Yihua Lifestyle Technology Co. this month said the Shanghai bourse asked it to explain why its debt levels were high when it had plenty of cash.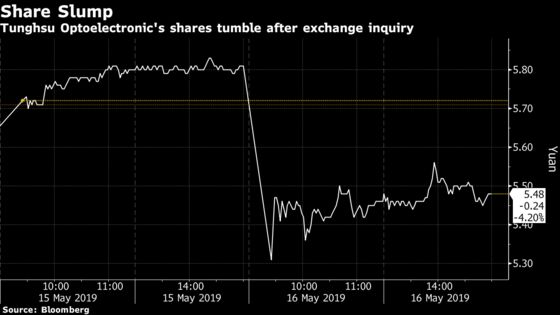 Tunghsu Optoelectronic's shares fell as much as 8.6% on Thursday. The exchange inquiry is a normal procedure conducted on listed firms' annual reports and the company will answer the questions in the coming days, Tunghsu Group's executive vice president Li Quannian said in response to queries from Bloomberg.