Analysts Still Love This Chinese Supplier to Nike
(Bloomberg) -- Shares of Shenzhou International Group Holdings Ltd., a Chinese manufacturer that's a top supplier to Nike Inc. and Adidas AG, appear expensive when compared to its domestic peers. But analysts say the valuation premium is well deserved.
The optimism is partly driven by Shenzhou's strategy to boost investments in automation as well as spending on more research and development, which have resulted in a widening of its profit margin to near record highs. Investor faith in Shenzhou's outlook is also reinforced by its position as the country's largest maker of knitwear, as smaller manufacturers lose market share to bigger rivals and face the likelihood of a shakeout amid growing trade tension with the U.S.
"Shenzhou can deliver faster than its competitors, so that's why they can take market share," said Jessica Fei Ye, an analyst with Jefferies Hong Kong Ltd. Shenzhou is slowly gaining more of Nike's apparel business, she said, with 13 percent of Nike's apparel business last year, up from 8 percent in 2008. "We think it will continue to increase," Ye said.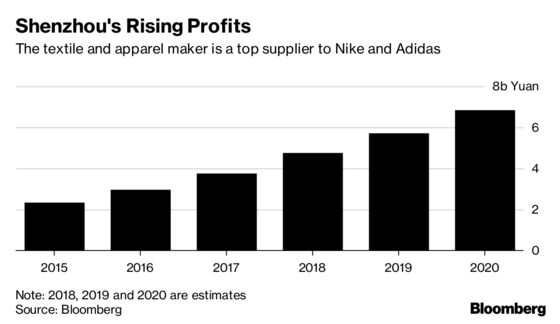 Shenzhou's stock valuation is far higher than that of rivals such as Yue Yuen Industrial Holdings Ltd., Crystal International Group Ltd. and Regina Miracle International Holdings Ltd. Shenzhou is trading at nearly 24 times earnings estimated for 2018, far above 12 times for Yue Yuen, 10 times for Crystal and 13 times for Regina Miracle, according to data compiled by Bloomberg.
Shenzhou's price-to-book ratio of 5.35 is more than three times that of the peers, Bloomberg data show. And as of Friday's close, Shenzhen was the only China-based consumer-products company whose projected price-to-book value traded at a premium to the five-year P/B average. Every other Chinese consumer company with a market value of at least $5 billion traded at a discount.
"Shenzhou is one of the few large-scale, vertically integrated fabric/garment suppliers in Asia that also has strong R&D capabilities," Morgan Stanley analysts Terence Cheng, Angela Hsu and Lillian Lou wrote in a report published Oct. 23. "Shenzhou deserves a premium vs. peers given its solid execution."
Shenzhou's share price has lost more than 19 percent from its peak in late August, under-performing the broader Hang Seng Index. The stock fell 1 percent in Hong Kong trading Tuesday. Yet 29 out of 30 analysts tracked by Bloomberg still have an equivalent of a buy rating on the stock, with a consensus 12-month price target representing a nearly 30 percent gain from current prices, Bloomberg data show.
The most recent "buy" recommendations come from analysts at Morgan Stanley, Credit Suisse and JPMorgan, each affirming their ratings since Oct. 22. JPMorgan analysts said in an Oct. 23 report they expect Shenzhou to become a long-term winner in the textiles industry, and put Shenzhou second in a ranking of Greater China consumer stocks, behind only China Mengniu Dairy Co.
Shenzhou is benefiting from increasing sales from Nike and Adidas in China. Bloomberg Intelligence said in a report this month that China-based suppliers for Nike and Adidas will likely produce and sell more at home as trade uncertainties weigh on overseas order growth. About two-thirds of Shenzhou's recent revenue came from Adidas, Nike and Uniqlo-owner Fast Retailing Co., according to Bloomberg supply-chain data.
By introducing more automation into its factories, Shenzhou was able to lessen the impact of higher labor costs in China, the company said in its interim report. Its net income margin of nearly 21 percent last year was the highest since 2004 as its total staff costs as a proportion of income declined by about 2 percentage points in the first half. By comparison, the net income margin of Yue Yuen, Crystal and Regina Miracle ranged between 4 percent and 7 percent in the last fiscal year, Bloomberg data show.
Shenzhou is more able to cut costs through automation than companies like Yue Yuen as automating shoe production is more difficult than apparel manufacturing, according to Bloomberg Intelligence Senior Analyst Catherine Lim.
Moves by Shenzhou to build production facilities in Southeast Asia, which now accounts for an estimated one third of its total capacity, can help shield it from trade tariffs slapped on Chinese goods by President Donald Trump, analysts say.
Shenzhou is also a beneficiary of the Chinese currency's depreciation, according to UOB Kay Hian analyst Robin Yuen, since most of its costs are in yuan and most of its sales are billed in dollars. "As the U.S. dollar appreciates, you have positive tail winds," he said.