Americans Snub China's New Dollar Bond Amid Trade Tensions
(Bloomberg) -- China's latest dollar-bond sale saw a marked slump in buying by U.S.-based investors compared with last year's offering, a stark contrast that's emerged as bilateral trade tensions escalate.
Diminished demand from the U.S. contributed to a slide in the bid ratio for the $3 billion sale last week, which was held during a bout of global market volatility. Orders amounted to 4.4 times total issuance, compared with about 10.5 times in last year's $2 billion offering. With China's economy slowing, recent moves by policy makers to shore up the expansion might also have dulled overseas appetite, said Anthony Leung at Wells Fargo & Co.
"U.S. investors may want to stay on the sidelines as China's easing measures tend to be perceived by them as 'the country is bracing for a hard time ahead,'" said Leung, a senior analyst at Wells Fargo in Hong Kong. More broadly, "it's probably not surprising to see U.S. demand has declined this time amid trade war and hacking concerns," he said.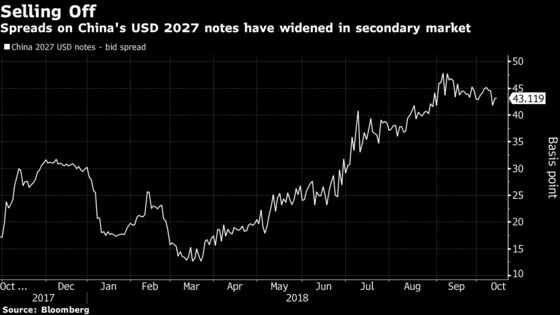 Offshore U.S. investors took only 2 percent of the five-year dollar notes sold last week, down from 20 percent last year, with the 10-year tranche seeing a drop to 4 percent, from 19 percent. A debut offering of 30-year bonds saw 6 percent allocated to this group.
"Weak market sentiment at present and the tight pricing" of the sale contributed to a slimmer order book, said Sandra Chow, a senior analyst at CreditSights in Singapore. Even so, "four-times covered is still quite decent compared to the order books of other recent Asian deals," she said.
The $1.5 billion of five-year notes were sold at 30 basis points over Treasuries.
The $1 billion of 10-year notes went at a spread of 45 basis points.
The $500 million of 30-year bonds were sold at 70 basis points.
Spreads were wider than the issuance levels across all three maturities on Monday, with the 30-year note widening by about 8 basis points, the 10 year note by around 4 basis points, and the five-year bond by about 2 basis points.