Alphabet's Miss Aside, U.S. Tech Has Topped Asia
(Bloomberg) -- Google parent Alphabet Inc.'s surprise sales disappointment overnight has been one of the few stumbles so far in an otherwise stellar showing for U.S.-listed technology giants, underscoring a growing divide with their more hardware-focused Asian peers.
Shares of Alphabet tumbled more than 7 percent in post-market trading in New York Monday, after first-quarter revenue fell short of expectations and Google's advertising revenue rose at the slowest pace since 2015. Futures contracts on the Nasdaq 100 slumped as much as 0.4 percent.
Until we see how that plays out during regular trading hours on Tuesday, there's another deviation happening: The NYSE FANG+ Index is up 25 percent this year, outstripping the MSCI Asia Pacific Information Technology Index as the biggest names in the Asia region benchmark including Samsung Electronics Co., Taiwan Semiconductor Manufacturing Co., SK Hynix Inc. and LG Display Co. -- all hardware makers -- have fallen short of analysts' expectations so far this earnings season.
"Asia is the place that builds everybody's machines that people use on an every day basis, and that's the divergence you're really seeing," said Jeffrey Halley, senior market analyst at Oanda Asia Pacific Ltd. in Singapore. "The U.S., for example, has moved into software and service, and Asia is still building the boxes that house it all."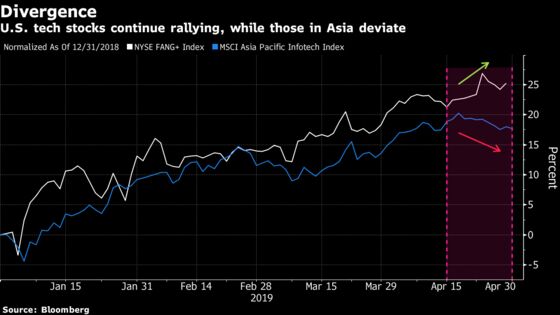 Despite the earnings disappointments at Alphabet and electric car maker Tesla Inc., outperformance among other key names including Microsoft Corp., social media giants Twitter Inc. and Facebook Inc., as well as streaming service Netflix Inc. and online retail behemoth Amazon.com Inc., have helped picked up the slack. The FAANG stocks overall remain key contributors to the S&P 500's ongoing push to new highs.
By contrast, Asian hardware makers are working in tighter margin industries and struggling with changing market dynamics. The move to cloud-based services and streaming has reduced the demand for more storage, while more expensive devices and a lack of game-changing innovation means consumers are holding onto their gadgets longer, Halley said.
"If Samsung had its own operating system for its Galaxy phones, they would probably be making a lot more money, they wouldn't be so subject to the whims of the global economy," he said. "If people spend less around the world, there's less stuff to sell and the prices will obviously fall."
One factor impacting the performance of the Asia tech benchmark is that two of the largest names in the region aren't in it -- Tencent Holdings Ltd. and Alibaba Group Holding Ltd., which are up at least 24 percent this year. MSCI Inc. has included the former in its communications services sub-index, and the latter its consumer discretionary grouping.
"If they were, that index would be looking a lot rosier. That still doesn't change the fact the rest of the index is underperforming," Halley said.
That's not to say there aren't headwinds facing the duo either. While the pair enjoy virtual dominance over the China market, they also must operate under a more controlling government presence, he said. Tencent is still recovering after China cracked down on the video game approval process last year.
MSCI Asia Pacific Index ex-Japan down 0.5%
Hong Kong's Hang Seng Index down 0.5%; Hang Seng China Enterprises down 0.6%; Shanghai Composite up 0.4%; CSI 300 up 0.2%
Taiwan's Taiex index little changed
South Korea's Kospi index down 0.5%; Kospi 200 down 0.5%
Australia's S&P/ASX 200 down 0.5%; New Zealand's S&P/NZX 50 little changed
India's S&P BSE Sensex Index down 0.7%; NSE Nifty 50 down 0.8%
Singapore's Straits Times Index down 0.4%; Malaysia's KLCI up 0.2%; Philippine Stock Exchange Index up 0.2%; Jakarta Composite up 0.4%; Thailand's SET up 0.4%; Vietnam's VN Index up 0.6%
S&P 500 e-mini futures down 0.1% after index closed little changed in last session