Alibaba's Tiny Loss-Making Unit Trades Twice as Much as HSBC
(Bloomberg) -- A stock that until last week wasn't covered by a single analyst has rallied 55 percent since May 16 for no apparent reason, generating more turnover than most of Hong Kong's biggest companies.
The sudden gains have made Alibaba Health Information Technology Ltd. -- a subsidiary of Chinese megacap Alibaba Group Holding Ltd. -- easily the best performing stock on the MSCI Asia Pacific Index this month. Some $167 million worth of its shares exchanged hands in Hong Kong on Thursday, the most since 2015 and surpassing the likes of PetroChina Co. and Bank of China Ltd. Trading was almost twice as much as HSBC Holdings Plc. Those three giants are at least 20 times as valuable as the Alibaba unit.
Ali Health's earnings report on May 16 showed a smaller loss and a surge in sales, triggering its biggest rally since 2015. The stock's momentum shows no sign of abating, and what is sustaining the buying frenzy is something of a mystery. It's been among the 10 most active stocks for investors based in Shanghai and Shenzhen through links with Hong Kong for almost every day this past week, where trading accounted for about half of turnover on its busiest days.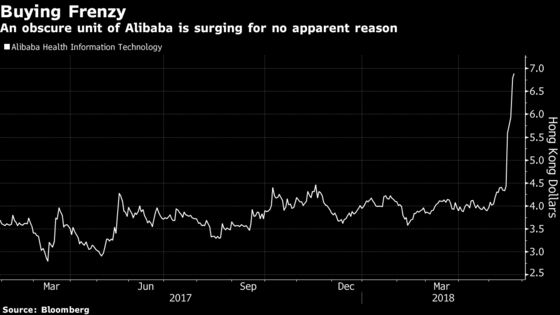 "Mainland capital was playing an important role in sending the shares up," said Zhang Gang, a Shanghai-based strategist with Central China Securities Co. "Alibaba Health is obviously a good target for mainland investors as the company is backed by a tech giant. Health care is a hot sector on the mainland and the optimism spread to Hong Kong."
China Merchants Securities analyst Su Zhang initiated coverage of the company with a buy rating last week, targeting a price of HK$6.80 per share. The shares closed up 1.5 percent at HK$6.89 on Thursday, paring an earlier gain of 15 percent. Alibaba Pictures Group Ltd., another unit of the retail behemoth, surged 32 percent to lead gains on the MSCI Asia Pacific Index. The value of trades in the stock was $166 million, similar to the amount for Ali Health and also the most since 2015.
Ali Health's moves are reminiscent of Fangda Carbon New Material Co., another little-known Chinese company that became the 11th most-traded common stock in the world last year.