After Record Run, Stresses Are Climbing in Asia Dollar Bonds
(Bloomberg) -- Debt issuers in the Asian dollar-bond market are learning the wisdom behind the old adage "if at first you don't succeed, try, try again."
In a twist hardly thinkable during the record sales of last year, investors balked at two investment-grade Chinese companies' offerings last week. Increasing strains thanks to the appreciating dollar and steady increase in benchmark Treasury yields are shaking up this near-$1 trillion market:
Property developer China Overseas Grand Oceans Group Ltd. first tried selling three-and-a-half-year notes at 2.25 percentage points over U.S. Treasuries last week, then pulled the deal. On Thursday, they came back to offer the same premium for just three years.
Zhongyuan Yuzi Investment Holding Group Co., which invests in urban and rural construction, also found insufficient takers for its five-year note offering last week. No word yet on its new plans.
They're not just for banks anymore! Floating-rate notes are what developer giant China Vanke Co. went with last week in order to sell $650 million of dollar debt. The company said the idea had come to it from investors themselves.
"Issuers are re-adjusting to the new normal, and taking advantage of products like floaters to get competitive funding," said Nitesh Dugar, Singapore-based director of capital markets origination at Citigroup Inc. in Hong Kong.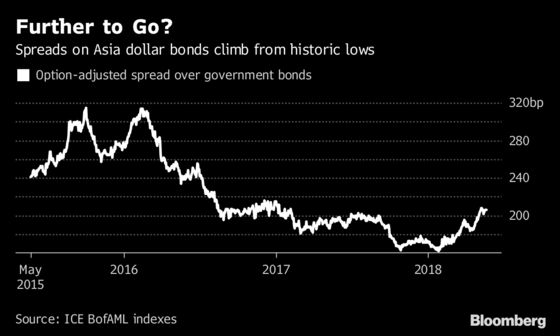 If the Federal Reserve keeps raising rates, and Treasury yields keep climbing, there's plenty more room for investors to demand even greater concessions in Asia, premiums suggest. The spreads on Asian dollar bonds are now about 206 basis points on average, still well below levels reached in 2016, ICE Bank of America Merrill Lynch index data show.
"As the market normalizes, investors demand higher differentials across the credit curve," said Jimond Wong, a senior portfolio manager at Manulife Asset Management in Hong Kong.
Longer-dated securities in particular might be a tough sell. Asian dollar bonds with duration of seven-to-10 years have handed investors a 6.5 percent loss so far this year, the worst among the maturity groups, Bloomberg Barclays indexes show. Only those with duration of less than a year managed to eke out a gain -- of 1.3 percent.
With sales for the month of May down 34 percent from 2017 levels, many issuers may still be acclimatizing to the new environment.
Investors prefer 3-5 year tenors and those who were originally looking at 10 year investments now capping it at 7 years, says Lorna Greene, a director of debt syndicate and origination for Asia at National Australia Bank.