After $125 Billion Drop, China Mobile Recovery May Be Far Away
(Bloomberg) -- By some measures, China Mobile Ltd. looks cheap. Shares of the world's largest mobile carrier trade at almost one-third of global peers' valuation.
But don't be tempted, say some analysts and investors, as a strong rebound is not yet on the horizon. The carrier has limited growth potential, while bearing the brunt of Chinese government pressure to reduce rates. Also, costs loom for upgrading its network to 5G and on Monday, the Trump administration asked the Commerce Department to block its 2011 application to set up a business in the U.S.
China Mobile "probably won't rally until mid-2020," Christopher Lane, an analyst at Sanford C. Bernstein in Hong Kong, said in an interview last week. "That's a bit too long for most investors."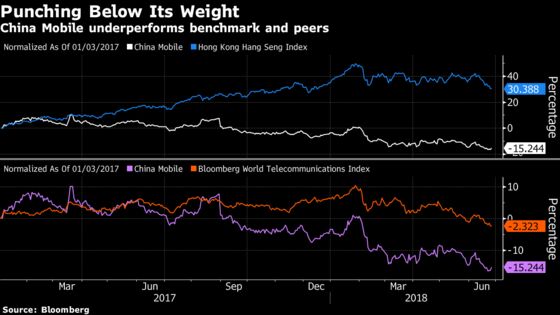 China Mobile, which has more subscribers than the population of the U.S. and Western Europe combined, has in the past drawn investors with its economies of scale and government stake. Those are no longer necessarily advantages.
Edison Lee, an analyst at Jefferies Hong Kong Ltd., last week said another challenge for the carrier, which has about 899 million users, is that its leadership position means subscriber growth potential is limited.
"Asymmetrical regulation" means the government has favored the two smaller rivals on issues such as reassigning 2G spectrum for 4G use, which allows networks to expand at lower cost, Lee said.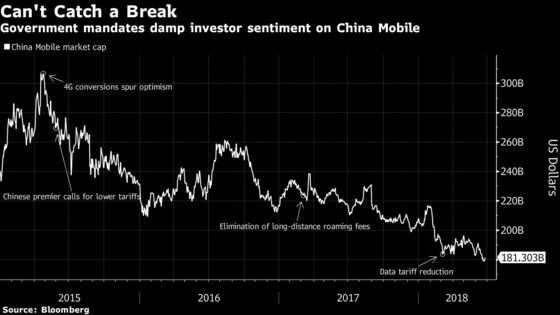 Meanwhile, smaller rivals China Unicom Hong Kong Ltd. and China Telecom Corp. have been pricing more aggressively to take market share, while China Mobile cannot add too many users because its network capacity is already stretched, Lee said.
The Trump administration moved against letting China Mobile Ltd. enter the U.S. telecommunications market, saying the government-owned mobile phone carrier would pose national security risks. China Mobile makes most of its revenue domestically and may be less vulnerable to trade blocks.
The Federal Communications Commission should deny China Mobile's application, submitted in 2011, to offer international voice traffic between the U.S. and foreign countries, the National Telecommunications and Information Administration said in a filing distributed by email on Monday. NTIA is a branch of the Commerce Department.
China Mobile now trades at about 10.5 times trailing earnings per share, compared with the the 27-times average for its peers, data compiled by Bloomberg show. Enterprise value is about 2.7 times earnings before interest, taxes, depreciation and amortization, compared with 6.6 times for peers, partly reflecting China Mobile's about $71 billion in cash and equivalents, the data show.
Still, pessimism about China Mobile shares is a contrarian position vis-a-vis analysts tracked by Bloomberg. Their average 12-month price target is HK$90.39, 30 percent higher than their June 29 close. Analysts have a very bullish record on the stock. The last time the price caught up with the target was April 2015, data compiled by Bloomberg show. The stock has slumped more than 40 percent since then, lopping about HK$978 billion ($125 billion) off market value.
Some investors expect China Mobile's expected big spending on upgrading to 5G will lead to benefits eventually.
"China Mobile's enormous capital expenditure will not be fruitless," Wang Chen, Shanghai-based partner with XuFunds Investment Management Co.j, said last week. "If the investments today can help China Mobile seize an upper hand in 5G era, it will still be a very good company."
China Mobile was able to use its scale to advantage earlier in the decade by upgrading to 4G ahead of some rivals. Now that China Unicom and China Telecom have caught up in terms of offering 4G services, the focus has shifted to upgrading to 5G, which may be especially expensive for China Mobile, which has tended to have higher capital spending as a percentage of revenue.
"China wants to be aggressive on 5G and they are looking at China Mobile as the leader in the 5G infrastructure build-out because they have the largest scale and the most money," said Jefferies' Lee, who rates the stock hold with a price target HK$68.