A New Number to Watch for China's Economy: The Resumption Rate
(Bloomberg) -- Economists searching for clues on how fast the world's second-largest economy is getting back on its feet are starting to generate a new must-watch number: the resumption rate.
As the Chinese government pushes factories to re-start production while still ensuring strict virus control, a reading on how much of normal activity is back matters for both domestic output and the global economy.
Right now, estimates are ranging between just under 60% to more than 70%.
Since last month, China International Capital Corporation's research team has been releasing a proxy of production resumption on a near-daily basis. With the latest reading at 70.7% on March 3, the so-called CICC Daily Production Activity Tracker aggregates a set of data including coal consumption, labor migration, freight logistics and urban civil transportation.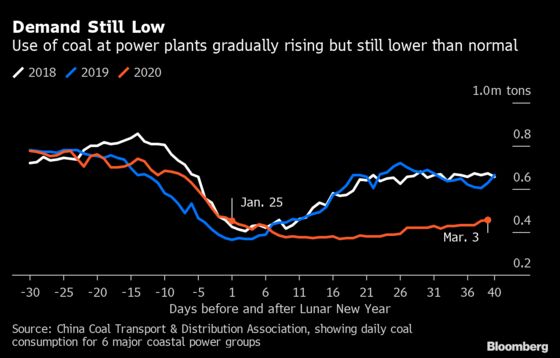 Bloomberg Economics has also been releasing a weekly estimate since Feb 18. The most recent report showed that China's economy is running at 60%-70% of its normal level in the last week of February, up from 50%-60% the previous week.
"We base our estimate on the best available numbers, a close reading of the news, and conversations with contacts across the country," according to Bloomberg economist David Qu. He collected data on passenger transport, daily average trading volumes in foreign exchange and construction materials, provincial releases on industrial enterprises restart rate and local media reports about staff availability.
Tech firm Baidu Inc., whose migration index of people flows has been widely used by media and researchers since the onset of the outbreak, announced its own resumption proxy last week. Using a big dataset from its mapping function, the firm compared active working population with a baseline of December. The latest reading for the national index stood at 57.4% on March 3. On a city level, Shanghai outperformed Guangzhou, Shenzhen and Beijing in the pace of getting back to work.
The government from time to time will throw out numbers about the proportion of firms that have resumed work, though often without accounting for the capacity they are operating at. There have also been cases where data were doctored to meet official expectations.